U.S. Masters Swimming Articles & Videos

By Author: Emmett Hines
Presented by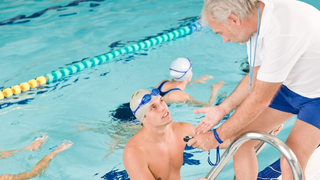 Technique and Training
"My coach often has us do drills or other activities that don't involve swimming. My training time is limited. Wouldn't it be better to spend that time swimming instead?" Great question! Hold that thought while we take in a picture show…
Technique and Training
Instinct rarely serves you well in swimming. The human survival impulse in water screams, "Get head above water! Get vertical! Get out!" For the majority of swimmers, despite having quelled most of these primal urges, the "need" to lift the head, if only a wee bit in order to breathe, still remains.
Technique and Training
For many swimmers, the part of their swimming technique most flawed is everything done while trying to snag that next gulp of air and then recovering from the experience over the next stroke, or two,...
Technique and Training
As I pass a park near my home there is often a group of retirement community residents practicing T'ai Chi. Precise movements, full ranges of motion, impeccable balance—all demonstrated as though...
Technique and Training
Recently there has been an exchange carried on within the pages of Swim Magazine that has intrigued us. Coach Terry Laughlin wrote an article for the July/August issue in which he uses some numerical...
Technique and Training
Whether you are a competetive swimmer or a fitness swimmer consider adding the following New Year's Resolution to your list: "In 1994 I will start and keep a swimming diary." A swimming diary is a...
Technique and Training
Every person has comfort zones within which he or she operates. Physical comfort zones are easy to identify. If your true AT pace for freestyle is 1:30 per hundred, any swim done at 1:40/100 would...

The USMS website contains articles about sports medicine, health, and nutrition. This information is not intended to be a substitute for professional or medical advice on personal health matters. For personal medical advice, or if you are concerned about a medical condition or injury, see your healthcare provider for evaluation and care. The USMS website also contains articles about swim training and technique, including drills and workouts. All swimmers should be evaluated by a healthcare professional prior to beginning swim training. In addition, consult with a trained coach when introducing new technique or drills to your swim training program.