U.S. Masters Swimming Articles & Videos

Presented by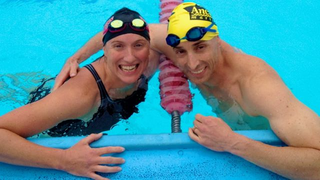 Human Interest
Spending time in the pool together makes working out a more communal experience for many swimmers. Teammates connect by sharing the same joys and frustrations that many biological families...
Human Interest
Swimmers, like many athletes, can be extremely focused and driven. Some are kinetic while others are relaxed. They work in a variety of professions. Some swim for fitness and some for social reasons...
Human Interest
Writer Kristina Henry reviewed Leanne Shapton's "Swimming Studies" for the July-August issue of SWIMMER, but that only told half the story. Her interview with Shapton reveals more about this very personal memoir of a talented swimmer and artist.
Open Water
Having heard about the merits of open water swimming from several of my Masters teammates I had to try one myself. But before attempting one of the big swims, such as Alcatraz or La Jolla, I thought I should aim for something a little less strenuous and much closer to home.
About USMS / Coaches Only
Many swimmers, your writer included, have had an initial hesitation to join a Masters program; after all, this is a team for serious swimmers, right? Super speedy Type As who thrive on competition or weekend warriors hungry to improve their swimming technique for triathlons?  
Human Interest
I am an average swimmer. As a child growing up in Vienna, Virginia I swam on our neighborhood swim team, the Shouse Village Sharks. In those halcyon days during the 1970s we all wore the Mark Spitz...
Fitness
When I first joined my Masters team I swore up and down to my husband and anyone who would listen that I would not participate in any meets. Ever. I was doing this purely for the wellness aspect, and...

The USMS website contains articles about sports medicine, health, and nutrition. This information is not intended to be a substitute for professional or medical advice on personal health matters. For personal medical advice, or if you are concerned about a medical condition or injury, see your healthcare provider for evaluation and care. The USMS website also contains articles about swim training and technique, including drills and workouts. All swimmers should be evaluated by a healthcare professional prior to beginning swim training. In addition, consult with a trained coach when introducing new technique or drills to your swim training program.