U.S. Masters Swimming Articles & Videos

Presented by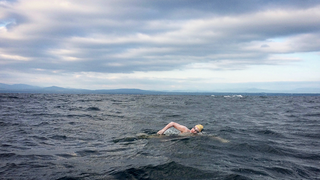 Human Interest
This past August, Colorado Masters Swimming member Sarah Thomas swam 104.6 miles in a single go.
About USMS
Two-time Olympian and gold medalist Whitney Hedgepeth, 45, leads the 238-member Longhorn Aquatics Club in Austin, Texas. A cool 23 new members signed up during the August membership drive, making the TXLA the fifth club to receive a $1,200 pace clock from Colorado Time Systems.
About USMS / Events
In 1977, a still-young U.S. Masters Swimming organization got a new event—the 1-hour swim. The concept was to challenge swimmers to see how far they could swim in one hour during the month of...
About USMS
How big and amazing could your Masters program be if only you could find enough pool time?
About USMS
Although some of the clubs that won pace clocks during our August membership drive contest didn't even realize the contest was going on, for some this was a prime opportunity to rejuvenate their...
About USMS
The August membership drive was a success for clubs of all shapes and sizes, and at the larger end of the spectrum, Lane 4 Swimming (Potomac Valley) finished in second place with 47 new members. That...
About USMS
Linda Bostic, 52, never intended to found one of the fastest-growing Masters programs in the country or to become a top coach within U.S. Masters Swimming. All she was looking to do back in 2009 was to start swimming again. 

The USMS website contains articles about sports medicine, health, and nutrition. This information is not intended to be a substitute for professional or medical advice on personal health matters. For personal medical advice, or if you are concerned about a medical condition or injury, see your healthcare provider for evaluation and care. The USMS website also contains articles about swim training and technique, including drills and workouts. All swimmers should be evaluated by a healthcare professional prior to beginning swim training. In addition, consult with a trained coach when introducing new technique or drills to your swim training program.