U.S. Masters Swimming Articles & Videos

By Author: Kimberly Lloyd
Presented by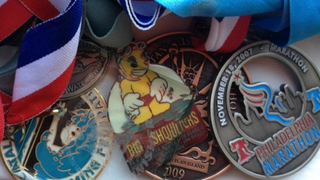 Technique and Training
What makes some people winners time after time, while others seem to fall short just as often, or at best, get lucky once in a while? In the recipe for success, a properly set goal is one key...
Coaches Only / Technique and Training
How we view things, including ourselves, is the critical factor in every challenge we face: in swimming, school, work, home, everywhere. A positive attitude makes success possible, while a negative...

The USMS website contains articles about sports medicine, health, and nutrition. This information is not intended to be a substitute for professional or medical advice on personal health matters. For personal medical advice, or if you are concerned about a medical condition or injury, see your healthcare provider for evaluation and care. The USMS website also contains articles about swim training and technique, including drills and workouts. All swimmers should be evaluated by a healthcare professional prior to beginning swim training. In addition, consult with a trained coach when introducing new technique or drills to your swim training program.