U.S. Masters Swimming Articles & Videos

Presented by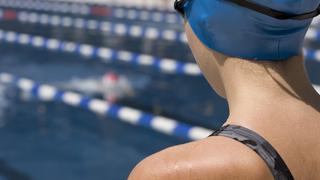 Technique and Training
It's something we all face: getting older. And for many of us, responsibilities—both personal and professional—don't diminish, they only get bigger and more pervasive. We end up shorting...
Human Interest
Winston Churchill famously described depression as a big black dog that follows the sufferer around. Truman Capote contrasted the onset of the blues with an attack of the reds, and Kat Kinsman...
Coaches Only / Technique and Training
Standing on deck coaching a Masters workout, I often have mixed feelings when I see swimmers reaching for their pulling gear. All too frequently, hand paddles and pull buoys become crutches, an...
Technique and Training
Get Motivated It's time again to think about some goals for the New Year. Coaches encourage you to do this every year, because goals are great motivators, especially on those cold and dark...
Coaches Only / Technique and Training
At the end of February, I had a conversation with an old friend who is now the head men's swimming coach at a Division I university. His team had just finished up its conference meet. I dropped him...

The USMS website contains articles about sports medicine, health, and nutrition. This information is not intended to be a substitute for professional or medical advice on personal health matters. For personal medical advice, or if you are concerned about a medical condition or injury, see your healthcare provider for evaluation and care. The USMS website also contains articles about swim training and technique, including drills and workouts. All swimmers should be evaluated by a healthcare professional prior to beginning swim training. In addition, consult with a trained coach when introducing new technique or drills to your swim training program.