Masters swimmers get hitched where they love to play
Photos by Bella Molnar
Cyle Sage proposed to Mandy Zipf on the beach last year. Sounds normal enough, right? Well, this couple, both members of U.S. Masters Swimming and avid open water competitors and triathletes, planned their wedding like most: consulted a designer for a dress, picked out the music and ordered a cake. However when they said their vows and sealed them with a kiss, they were not at an altar, but underwater with SCUBA gear.
Sage is a long time member of U.S. Masters Swimming, consultant for Ironman, trains youth triathletes and is even developing a running shoe. Zipf, who worked in the insurance business until 2005, is now pursuing a Doctorate in Pharmacology. Both swimmers have been living, swimming and competing in the Tampa area for years before actually meeting.
"We saw each other for the first time in the Bahamas at a triathlon. We didn't actually talk, but we were there and standing right next to one another at the start of the swim," remembers Sage. It wasn't until a mutual friend suggested that the three of them swim together at a local pool during their lunch break one day in 2000 that the two swimmers actually met. "We swam together in that one practice, but still didn't really see much of each other after that." Several years passed and Sage reconnected with Zipf online. From that online connection in 2007, Sage and Zipf began to swim, run, bike and even kayak together. "They were dates and training sessions all in one. Many of our 'dates' centered around triathlons or other competitions," shares Sage.
In 2008 Sage proposed to Zipf on the beach. Once the proposal had been made, Sage and Zipf began planning their unique ceremony. "Mandy was on the phone with her mother one day and said, 'wouldn't it be cool if we got married underwater?' I'm not sure what came next, but the decision had been made," says Sage. Though it took a little of convincing of family and friends that an underwater wedding was suitable, and doable, Sage and Zipf began to coordinate all of the logistics of the big day.
The wedding, which was held at the historic Weeki Wachee State Park, was coupled with a "wedding triathlon," in which the happy couple and many of their friends and family competed.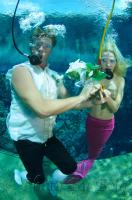 Weeki Wachee is known for its mermaids and was the obviously perfect location for the Zipf-Sage wedding. After the venue was secured it was time to finalize details for the much-anticipated event. Zipf, whose mother's friend is a fashion designer in the Washington D.C. area, commissioned an appropriate wedding dress: a mermaid's outfit. Sage and Zipf pre-recorded vows and the exchanging of rings so that audience members could hear these spoken vows and other elements of the ceremony in an underwater room, and Sage and Zipf even choreographed their underwater ceremony to music.
With so much time, effort and passion that went into the creation of the perfect underwater scene, Sage and Zipf saw this event as not just a wedding ceremony, but as a chance to entertain their friends and family in attendance. "People kept asking me if I were nervous. I wasn't nervous about getting married, I was more nervous about the choreography going as planned than I was about getting married," explains Sage.
The wedding was a big success. "It was the perfect combination of unique and traditional," shares Sage. After the underwater ceremony, Sage changed into a tux and Zipf into a traditional wedding dress to enjoy a more traditional version of a wedding reception complete with dancing, cake and punch.
After the big day, and with no surprise, Sage and Zipf returned to the Bahamas for a honeymoon full of diving, beach-going and, of course, swimming.
Now back from the honeymoon and acclimated back into real life, Sage will continue as a coach and entrepreneur and Zipf will begin her third year in pharmacy school, Sage is confident that both will compete in multiple open water swims and other competitions this fall; "It is our passion, obviously," he says.
Sage and Zipf video taped their ceremony. Click here to view this unique exchanging of vows.
---