Two Extraordinary Masters Swimmers Inducted into Hall of Fame
ISHOF welcomes Meyer and Zint
Each year a select few Masters swimmers from around the world are honored with an induction into the International Masters Swimming Hall of Fame (IMSHOF). IMSHOF is housed in Ft. Lauderdale, Fla., within the International Swimming Hall of Fame (ISHOF). ISHOF proudly recognizes swimmers and other aquatic athletes throughout history for their accomplishments and displays photos, medals and other memorabilia to honor and commemorate individuals, teams and events.
This year four Masters swimmers will be inducted into IMSHOF: Margery Meyer (USA), Gertrud Zint (USA), Karl Hauter (Germany) and Keijiro Nakamura (Japan). We are proud of our U.S. Masters Swimmers, Meyer and Zint, both of who continue to leave lasting impressions on those with whom they interact, swim and compete.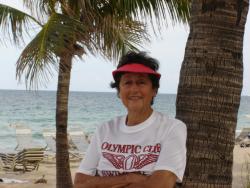 Margery Meyer always swam. "We had a pool in the backyard. I don't remember not being able to swim or even learning how to swim. I just remember swimming." Meyer swam in her first competition in 1987 after her daughter, Marguerite Meyer, convinced her of the fun she would have. From that moment on, she was hooked. "Marguerite signed me up for sprint events in that first meet. Honestly, it was more like thrashing than swimming, but I kept getting better," says Meyer. Marguerite adds, "From that first meet on, we have competed together at local, regional, national and international meets; she is a wonderful traveling companion."
Meyer set her first world record as a member of a relay team at the Masters World Championships in Brisbane after swimming Masters for only one year. "I was the baby on that relay team at the age of 65," she says. Meyer's relay team included fellow inductee Gertrud Zint. Meyer credits her daughter Marguerite for being her inspiration, but Marguerite claims it is, in fact, the opposite: "She inspired me by her constant desire to learn. Whether it is a new stroke, new technique in the water or her interest in reading, attending lectures or social and cultural events, she keeps her mind in as good of shape as her body."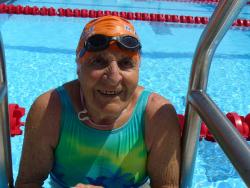 Gertrud Zint was born in Wilhelmhaven, Germany. She was forced to learn to swim at age five, as her father was a tugboat captain. "My mother taught me how to swim. I had to prove that I could swim for 30 minutes without stopping before I was allowed on the river," shares Zint. Zint migrated to the United States in 1952 to continue her career as a nurse. She discovered Masters swimming in 1981 and has been swimming ever since. She has set multiple records and continues to receive honors for her accomplishments in the pool. "I think I have won most of the races I have entered," Zints laughs. "She is always a feisty competitor," says former teammate Margie Hutinger.
Hutinger goes onto recall swimming with Zint, who has since moved from Florida to be closer to family. "Gertrud's greatest accomplishment is her persistence and dedication to continue swimming in spite of her aches and pains; she never uses them as an excuse." Hutinger also shares Zint's willingness to participate on relays, "always willing to help the team." Zint, though she doesn't swim often these days, still remembers how much she enjoys the water, "I love the water. The sensation of swimming is like nothing else," she says.
The IMSHOF induction ceremony will be held during the 2009 International Swimming Hall of Fame's Honoree Induction Weekend Festivities on September 12, 2009 at 6:30 p.m. Tickets are $50. For additional information, please call Meg Keller-Marvin at (570) 594-4367. U.S. Masters Swimming encourages all members to support Meyer and Zint at this year's ceremony. These women have served as inspiration to many of us and will continue to do so through their swimming accomplishments and dedication to the sport of swimming.
---