The International Masters Swimming Hall of Fame Inducts Six
Two Current USMS Members Honored
On Friday, September 26 at 7:00 p.m., six outstanding Masters athletes will be inducted into the International Masters Swimming Hall of Fame (IMSHOF). IMSHOF is maintained within the International Swimming Hall of Fame (ISHOF) in Fort Lauderdale, Fla. Its purpose is to recognize Masters athletes, such as those to be inducted in September, for their outstanding accomplishments in the pool as well as their contributions to Masters swimming. The honorees, Ibone Belausteguigoitia (Mexico)-diver, Russell Hafferkamp (USA)-water polo, Willy van Rysel (Great Britain)-swimmer, and USMS members Jim McConica (USA)-swimmer, Robert Strand (USA)-swimmer, and the late Maria Lenk (Brazil/USA)-swimmer, have all displayed the fine athleticism and character that IMSHOF agrees is worthy of international recognition and induction into the Hall of Fame.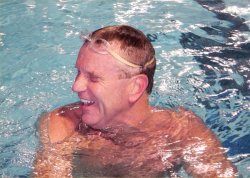 Jim McConica, current member of United States Masters Swimming, provides inspiration for all swimmers—all athletes. Jim, a six-time NCAA champion and two-time Pan American Games gold medalist, almost disappeared from the sport of swimming after a disappointing third place finish in the 1972 United States Olympic Trials. Jim returned to swimming nearly nine years after leaving the sport determined to swim fast and shatter records. He is a distance and open water swimmer and holds various world records. Jim is known for creating legendary "impossible" swims; he has swum the English Channel once and the Catalina Channel three times. Since retiring from a career in the auto industry, Jim spends his time in the water. When not training more than 50,000 yards a week, he is reporting to duty as beach life guard in Southern California; Jim lives at the beach with the other guards and works more than 40 hours per week as an LA County lifeguard in the summertime. Jim has high expectations of continuing to challenge himself with channel swims and record-breaking pool races. He trains with Ventura County Masters and encourages fellow Masters swimmers in and out of the pool and has been known to jump into an age-group training session to motivate youth athletes—and to challenge himself further.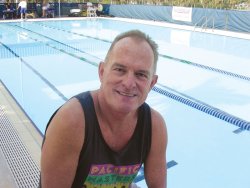 Robert "Bob" Strand, current member of United States Masters Swimming and current or one-time owner of 45 Masters world records and 75 USMS records, only started swimming seriously at the age of 44. Bob was a competitive age-group swimmer until the age of 18; family issues and illness kept him from swimming seriously in college, however. Only when a couple of friends encouraged Bob to join them for a workout at a local YMCA did he feel an intense urge to get back into the water. He started by swimming a few laps, and less than six weeks later competed in his first meet since his teenage years, and in less than seven months Bob was a Masters swimming national champion. Bob's enthusiasm for competition drives his commitment to training in and out of the pool. When asked why he swims, Bob says, "I like to swim because it makes me feel good." He continues to post times in the breaststroke and individual medley events that he once dreamed of posting in his teens and 20s. Bob agrees that swimming is a lifelong sport and that even "old guys like me" can continue to improve and win races.

"Jim McConica and Bob Strand have demonstrated a commitment to Masters swimming, and the IMSHOF induction is a deserved honor for both," said Rob Butcher, executive director for USMS. "Jim and Bob train hard and swim fast, but most importantly, they continue to encourage others to seek fitness through aquatics while celebrating the camaraderie, friendship and fun that USMS offers; they successfully demonstrate the values of United States Masters Swimming and serve as role models to the USMS membership. These men inspire teammates, communities, our country and the world with their accomplishments."

For more information about Jim McConica and Bob Strand, as well as the other 2008 IMSHOF inductees, and the IMSHOF induction ceremony, or for more information about becoming a member of ISHOF, please go to www.ishof.org. We encourage all USMS members to attend the IMSHOF Induction Ceremony. The formal invitationis available online at the ISHOF website.
Contact: Ashley Gangloff, United States Masters Swimming (USMS)
Phone: (704) 333-7944
Email
---
Categories:
Human Interest
About USMS