The Family Secret: An Endless Pool
A small team wins thanks to great training
The Cronins are a swimming family and at this year's New England Masters Championship at Harvard, three generations competed in the family team, Technique and Training, better known as TNT. The team fielded three-generation mixed relays and ended up taking first place in the small team division.
The team matriarch is 84-year-old Marilyn Cronin, joined by her daughter Carilyn Cronin-Donovan, her sons Carlton Cronin, Christopher Cronin and Chuck Cronin – Chuck serves as TNT's coach – and two grandchildren C.J Cronin and Nathan Cronin.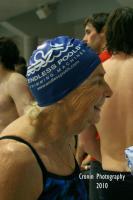 Marilyn has been busy training in an Endless Pool for the last few months to get ready for the meet. This strategy paid off when she brought home three silvers and two golds last weekend.
Cronin-Donovan says her mother started swimming at the Boys Club pool at the age of 15. She began coaching as a volunteer at the Lawrence YWCA in the 1960s. Lawrence placed 2nd at the YWCA Nationals.
A couple of years ago, Marilyn Cronin had to stop wintering in Florida after her husband was diagnosed with Alzheimer's. The family came together and purchased an Endless Pool to help her stay in shape. "It keeps her active. It's good for her. She worked out daily for most of her life," Cronin Donovan says.
The Endless Pool works with an adjustable current level for different strokes and level of swimmer. Cronin liked the convenience: adjusting the temperature and the flow allowing her to swim whenever she likes. She keeps the pool in a separate room in her house and trains for an hour every day, practicing all her strokes, but keeps away from the butterfly. She doesn't use a clock, preferring to use stroke count instead. She was excited about competing in the championship, but her daughter said before the meet, "She's a little concerned about the start and the flip turns," since those are not practiced in an Endless Pool.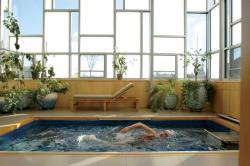 As it turns out, the whole family is now using the Endless Pool to train whenever they're not at the Hocomock YMCA in Attelobro, Mass. where Chuck Cronin is a coach. "We're a tiny team," says Cronin-Donovan. The team has eleven members, seven of which are family. Last year at the championship they placed third overall in their division. This year they were able to take first.
Cronin continues to enjoy her workouts at home. Cronin-Donovan says her mother is especially fond of watching the snow fly when she swims.
---
Categories:
Technique and Training
Human Interest