Swimming Across Lake Pontchartrain
Swim My Brother Swim!
On Wednesday, May 2, 2012, at the stroke of midnight, Matthew Moseley jumped into the choppy, dark waters of Lake Pontchartrain in New Orleans to begin his leg of a two-man relay across the entire 23-mile lake. The swim was scheduled to start at 3 a.m., but after canceling it due to bad weather, Moseley and his fellow swimmer, Glynde Mangum, and their crew decided to move it up and try to squeeze it in before the worst hit. They only had this one window to do the swim before Jazz Fest, and apparently no good son or daughter of New Orleans likes to miss a party.
"So in Louisiana when you say you are swimming across Lake Pontchartrain people look at you like you are crazy," Moseley explains. "My mom asked, 'Why would you do that?' As far as I can tell there has been only one other report of a swimmer making a full crossing."
Well, here's why Moseley did it: to have fun and help those who work to clean up the lake. Moseley, a 46-year-old member of Colorado Masters and Mangum, 50 and a member of the Colorado LMSC, share a love of all things New Orleans. They also share a few genes—their Louisiana grandmothers were sisters. The swim was a fundraiser to help their native land and specifically the Lake Pontchartrain Basin Foundation. The foundation is dedicated to restoring and preserving the water quality and habitats of the lake basin and to repairing the New Canal Lighthouse which was damaged during Hurricane Katrina. Put simply, 20 years ago the lake was a "toxic dump, and the Lake Pontchartrain Basin Foundation cleaned it up," Moseley says.
Moseley had just flown in from Colorado a few hours before the swim started. He had done a smaller loop in the lake twice before as fundraisers, but couldn't do it in 2011 due to poor water quality. The earlier swims got him interested in the lighthouse, so plans for this swim started percolating. "We've been swimming together for a long time," Moseley said when asked about how he and Mangum formed their two-man relay. "All the stars aligned."
Their training consisted of swimming four days a week with a good bit of open water practice. Twice they did sets of 11 x 1,000 and once did 13 x 1,000. "Then we'd have a nice long lunch afterwards," Moseley says with a chuckle.
Moseley and Mangum are both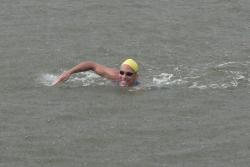 accomplished open water swimmers, but this was still a big job. Moseley swam the first 13 miles in the dark, through white-capped swells ranging from 2-5 feet. "Because the lake is so shallow, it can get very turbulent real fast. It was banging all around us. It almost felt like the boat would land on me." Moseley had to deal with the wildest waves, but Mangum got the driving rain. Mangum began his swim at 6:25 and powered through the swim despite constant downpours. Together, thanks to being pushed around by the weather, they actually swam 26.1 miles in 12 hours and 23 minutes.
A swimmer in high school, Moseley came back to the sport in graduate school. He discovered Masters Swimming and then found his true calling in open water. "I learned I was a much better open water swimmer than pool swimmer." And he just likes it better. "You're a part of the water, a part of that world. Water keeps us young and alive." And with this swim, Moseley wanted to be a part of returning the favor.
Tom Giovagnoli, an accomplished musician and a member of the support crew, wrote the song "Swim My Brother Swim" in honor of the event. You can hear the song on this video about the swim.
---
Categories:
Open Water
Human Interest