Robin Parisi, in Her Own Words
Early
Robin Parisi, in her own words: "I was born in Redlands, Calif., where, in the summer, my mother fried eggs on the sidewalk to demonstrate the intensity of the heat. Pools were abundant, so my parents took early steps to "water-proof" me by enrolling me in swim lessons the summer I turned three. We later moved to Marin County, and I started competitive swimming when I was seven, after the local coach spotted me during an open-swim session and invited me to join the team.
I had a hard time learning butterfly, but it became my best stroke after my father worked with me in the neighbor's 10-yard pool. By the time I was nine, my parents moved me to the Pirates of Marin, a team that trained much nearer to my home. Soon after joining the Pirates of Marin, the team merged with the Ann Curtis Swim Club (then coached by Olympian Ann Curtis) to form the Marin Swim Club. Future Olympian Rick Demont was also a member of the Marin Swim Club.
There were a number of great swim teams and swimmers in the bay area at that time. Future Olympians Sue Pederson and Karen Moe were in my age group, future Olympians Debbie Meyer, Mark Spitz, Don Schollander, and Donna DeVerona, and future Hall of Fame Msters swimmer Laura Benoit (Laura Val), all swam at many of the meets I attended.
Swimming as Robin Bachrach for Marin Swim Club, I set a number of national age group butterfly records in the 9-10 and 11-12 age groups, and also enjoyed a lot a success swimming IM. In 1968, the summer I turned 14, I traveled to Knoxville, Tenn., for the National Junior Olympics, where I won the 100 butterfly in the 13-14 age group. I also qualified for, and then swam in, the 1968 Olympic trials, held in the old Coliseum pool in Los Angeles. Shortly after this, Marin Swim Club broke up, and I stayed with a small group of swimmers who trained near my home in Fairfax. I continued to swim through my junior year of high school, attending various AAU Senior Nationals, including meets in Louisville and Cincinnati. I swam the butterfly and IM events.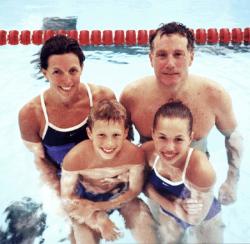 Personal and family issues interfered with my swimming commitment, and by the time I began attending Stanford in 1972, I had quit the sport (if Stanford had a swim program at the time, which was just at the inception of Title IX, I was not aware of it). There ensued a twenty-seven year hiatus from competitive swimming, during which I obtained my law degree, established myself in the legal profession, married and started a family. In 1998, when my daughter was nine and my son was seven, our family joined the Multnomah Athletic Club. The children signed up for the swim team, and before long I was swimming with the Masters group. I swore at first that I would never compete—I had enough stress on my job—but soon capitulated to the cajoling of my teammates and entered a meet that the MAC hosted.
I have been astounded by the changes in swimming since I quit the sport (or by my higher degree of awareness concerning training and technique, I am not sure which). Within 6 months of swimming with the MAC Masters group, I felt 10 years younger than I had before I started. I enjoy training, but still have an aversion to competing. Competition, however, lends a purpose and focus to the training, so I bite the bullet and attend enough meets each year to keep some near-term goals in sight.
The coaching staff at the MAC gives a lot of support and positive encouragement to the Masters team. Sean Taylor was the Masters coach when I first started, and helped me to change my breaststroke and freestyle to something more akin to modern strokes. Sean moved on to coach at Mt. Hood Swim Club, and Alex Nikitin and Stephani Turner are now working with the Masters team. Both Alex and Stephani also coach junior swim team groups (Alex is currently my son's coach), and bring a wealth of knowledge and experience to the job. We have a great group of people on the MAC Masters team. Probably the principal pleasure of Masters swimming has been getting to know adult swimmers of diverse backgrounds, ages, and professions. Another pleasure, but a bittersweet one, is seeing my children catch and surpass me in the pool. The one annual meet I do enjoy is our intra-squad Red & White Classic. The age group, senior and Masters swimmers are divided into two teams, and face off in 50s of each stroke, a 100 IM, and an all-hands raucous relay that always determines the championship for that year."
---