Richard Abrahams Believes in Training to Race
Set new records after shoulder surgery
Richard Abrahams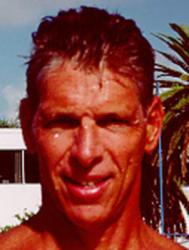 Richard Abrahams was inducted into the International Masters Swimming Hall of Fame on Friday September 16, 2011. He was a former Wildcat Big Ten Champion.


1999 SWIM Magazine Story
Those who wondered where Richard Abrahams went following his October 1995 shoulder surgery are wondering no more. Abrahams reappeared in 1998, setting four long course world records in the 50 and 100 free (24.60, 56.98) and fly (27.17, 1:02.25).
He is proud of the fact that his freestyles in yards and meters were faster than those in the next younger age group, and his 100 time was faster than the one he swam in the 1964 Olympic Trials.
Abrahams stands at 6-1 and weighs a chiseled 172 pounds, very close to his college swimming weight at Northwestern. He was fifth at NCAAs in the 50 free his sophomore year and second his junior year in 21.5 to Yale's Steve Clark. The fire he had then still burns today—last year, at 53, he went a stunning 21.73; he also became the first man over 50 to crack 50 seconds in the 100 free, stroking an amazing 48.80.
The recreation administrator and several friends take two lanes daily and swim 2,500 meters. There is no coach, unless self-coaching counts. "I consider myself a student of the sport. I read, observe and adapt," he says, citing that he incorporated dolphin kicks into his freestyle after seeing it during NCAAs on TV. "I have a sprint physiology. A part of that is understanding yourself. I keep a training log and take an enforced four days off before nationals. I need plenty of rest."
Abrahams believes in training to race, not just to train. His workouts are for speed, including many 12-1/2s and 25s. He has stretched religiously for 20 years, much of it from yoga-based poses. He also lifts weights once a week for 90 minutes, working the whole body with emphasis on legs and trunks—hard and heavy, three sets of five reps.
All the training should set Abrahams up nicely for summer nationals and beyond. He is already thinking about the 50 back and 100 IM records he'd like to set when he turns 55 next March. "I've got some speed, and that helps," he says. That's for sure.
by Michael J. Stott, published in Swim magazine, March-April 1999
---