Really! And Masters meets are friendly and supportive places
Bryan Karkoska (PK), 36, started swimming only a couple of years ago with Auburn Masters Swimming in Auburn, Ala. PK, a former placekicker for the Auburn University football team, races in one meet a year. "I like to race," he says, but PK's busy work schedule keeps him from competing in more meets. PK is the head strength and conditioning coach for Auburn University Olympic sports. "I swim with about 20 Masters swimmers during my lunch, and almost all of us compete in the meet that we host in February," PK shares, but quickly informs that, "its not about the competition, it's about the camaraderie." Conner Bailey, one of PK's teammates in Auburn, also competes in U.S. Masters meets throughout the year. Conner, a professor of rural sociology at Auburn, said that competing is a "real pleasure. I don't swim against the other people in the pool. I swim against myself and the clock."
"Yeah, there is a lot of smack behind the blocks," PK jokes, "but it is all in good fun," he insists and goes onto say, "I didn't get into this sport to see how fast I could go; this is a lifestyle and I do it to feel good." U.S. Masters meets are notorious for coach and athlete socials after the competition. "It is a time for us to hang out, socialize and recap on the meet." Conner agrees and calls Masters meets "one big social event." Even though racing isn't PK's first priority, he recently set new goals for himself in the pool. "I've never swam a long course meet before and I think I'd like to try." Conner, 62, also shared his racing goals for the future. "My goal is to always go faster than my age in a 100 free. Last year I swam faster than 62 seconds and touched at 1:00.80!" he said.
Competition is one of the many benefits of a USMS membership and the third installment in the eight-part series, "Why join your local Master's program, and why join USMS?" Don't think that competition is for you?
Some U.S. Masters swimmers dread the word "race." Some might think that competition is only for the "fast" swimmers or the "experienced" swimmers, but that is not the case. "It is absolutely for everyone," says PK. "Yes, there are people wearing high-performance suits and worry about hitting their taper, but there are just as many of us that show up in a regular suit and just want to challenge ourselves." Conner admits to getting nervous behind the blocks, but says, "I tell myself, 'It's only about what I can do today,' and then I can compare it to what I can do in one month from today or one year from today." Conner doesn't feel pressure to swim fast, but feels a sense of pride when he knows that he has swum a "smart" race. Conner keeps a spreadsheet of his races and likes to look back on them and see where he's improved; "I've actually gotten faster in a few events over the years."
Want to swim in a U.S. Masters meet?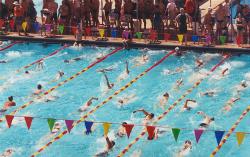 Last year there were over 270 meets and 12,381 USMS competitors. Finding a meet in your local area is easy! Either visit http://www.usms.org/comp/calendar.php and click on your zone for a USMS calendar of events or contact your local LMSC.
Can't find time in your schedule to attend a meet? Go postal.
The U.S. Masters postal events got their name when swimmers from across the country would mail (remember those things called pens, paper, envelopes and stamps?) in results from local swims to get the opportunity to virtually compete with other swimmers in different cities. If you can't find time in your schedule to attend a U.S. Masters swim meet, you can still compete against other USMS members; with the new year comes the USMS 1 Hour Postal and a great way to kick off the season. You might be wondering, "How does it work?" Answer: Swim for one hour and let us know how far you've gone. The only requirement is that you be a member of USMS. Easy, right?
For a complete explanation of the USMS 1 Hour Postal Championship rules, go to http://www.usms.org/longdist/ldnats09/1hrentry.pdf.
U.S. Masters Swimming provides competitive opportunities for USMS members of all ages and abilities. Whether you are brand new to the sport of swimming and haven't quite figured out a flip turn or are racing to beat a world record time, USMS has the perfect meet for you.
---
Categories:
Human Interest
Coaches Only
About USMS