Lydecker vs. Lochte Splashdown
Masters vs. Olympian for charity and fun
Five years ago, Daytona Beach Community College decided it would become a four-year college and changed its name to Daytona State College. With an enhanced academic offering, college President Dr. Kent Sharples wanted to expand the college's sports offering as well. Dr. Sharples announced in the winter of 2008 that Daytona State College would be starting men's and women's swimming in the fall of 2009. Monumental to this decision was the hiring of Head Coach Steve Lochte. Coach Steve is the head coach of Daytona Beach Swimming, which includes an age-group team of more than 300 year-round swimmers and a Masters program of more than 100. Coach Steve is one of USA's most respected coaches, having produced numerous All-Americans and Olympic Trials qualifiers, and is also the father and coach of 2004 and 2008 Olympian Ryan Lochte.
Charlie Lydecker is a 45-year old Daytona Beach Masters swimmer. Professionally, he is executive vice president for Brown & Brown, a national commercial insurance broker headquartered in Daytona Beach. Charlie was a four-year competitive swimmer at American University and really thrives in open water competitions. When not flying around the country for business, Charlie can be found at the YMCA pool or the beach training with the other Daytona Beach Masters swimmers and lifeguards. Charlie is also fondly recognized as one of Daytona Beach's greatest community ambassadors. He gives generously of his time and money to many causes each year in Daytona Beach.
"We were looking for some PR buzz with the new college swim team," stated Steve Lochte. "The idea of Charlie taking on Ryan in a 200 IM was more of a 'Wow, wouldn't that be cool' for our local swimming community to see. We thought we could tie it into the new college swim team and maybe raise a few dollars for Daytona State College."
Little did any of them know that the Lydecker vs. Lochte Splashdown would become one of the most successful promotions ever seen in the sport of swimming. "Our initial thought was if we worked really hard and networked, we might be able to raise $25,000," said Lydecker.
"When word started to get out in January of this event, the Lydecker vs. Lochte Splashdown, there was this unbelievable ground swell of interest. Ryan is from Daytona Beach. He graduated for Port Orange high school. Charlie is so incredibly respected and has given a lot to Daytona. You had two magnetic personalities that everyone liked," continued Coach Steve.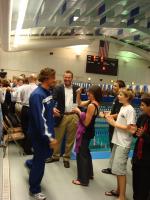 Daytona State College got fully behind the event. The university graphics and marketing department developed a Splashdown logo. A promotional poster of the two athletes wearing swim caps and goggles facing each other much like a boxing promotion was also developed. Volunteers placed several thousand of the posters around town. They did media interviews, raising awareness. Tickets were being sold at $100 apiece. The experience would include complimentary buffet dinner from Stonewood Grill & Tavern (where Lydecker is vice chairman of the board), autograph and photography signing with each athlete and of course a ticket to watch the two battle in a 200 IM. Rowdy Gaines was brought in to serve as the master of ceremonies. And Rob Butcher, USMS executive director and a Daytona Beach native, was also brought in to generate enthusiasm.
"At the end of February, we'd sold 200-tickets," said Coach Steve. "Give a lot of credit to Charlie. He was calling everyone he knew getting their support and asking them to make contributions. And here he is 20 years older than Ryan, taking on one of the world's greatest swimmers in his prime."
With each week getting closer, the ticket sales and donations just kept going higher. "Our pool area only seats 500 and we ended up selling nearly 900 tickets, raising more than $150,000. We put chairs along the pool deck and had standing room only," said Coach Steve. The college is applying for a matching state grant that would take the total tally to more than $300,000: an incredible sum of money for the sport of swimming!
As for the swim, Charlie, a terrific open water swimmer and winner of Escape from Alcatraz, was given a 15-second head start. When Masters swimmer and starter Anne Grahams gave Charlie the go, the crowd erupted. It was so loud in the pool, Ryan couldn't hear when he was to go and had to visually watch the starter's strobe.
For 175 yards, Charlie Lydecker was in the lead. Going into the last turn, Ryan was about half a body length behind. Ryan flipped and put in his patented underwater porpoise kick to pass Charlie with 10 yards to go. The two finished nearly identical at the wall and gave each other high fives. Ryan's time read 1:49, but they both knew this night was something special. It was much more than a 45-year-old Masters swimmer taking on one of the greatest swimmers in the world. It was a victory for everything good about swimming.
"That was by far one of the most fun things I've ever done," said Ryan.
"I've been around a lot of swimming and I'm not sure I've ever seen anything like this. The crowd was electric and I think more people were actually cheering for Charlie," said Rowdy Gaines.
"I'm so proud of Charlie for representing Masters swimming," said Rob Butcher. "I also think this event, and the success it had raising money, can serve as a template for other college university programs across the country."
Charlie Lydecker wrapped it up so well: "The real winner here is swimming and future generations. I applaud Daytona State College for starting a new team. The Daytona Beach Swim Team and the Masters team greatly supported this event. Many in the community who may never have been exposed to swimming got to be part of a great show."
Asked about a rematch, Lydecker, who contributed $10,000, said he wished he would have thrown in another $1,000 for an extra second. For more of a recap on the Lydecker vs. Lochte Splashdown, visit www.daytonabeachswimming.org.
---