Clinics and camps build camaraderie
Jerry Clark, Masters swimmer and member of the U.S. Masters Swimming Board of Directors, is always trying to improve.
Jerry and 21 other Masters swimmers from North Carolina, Virginia and Tennessee gathered in Charlotte last weekend to learn from the best. Masters coach Kerry O'Brien and USA Swimming and former Olympic coach David Marsh joined the Masters group for a training camp and clinic. Jeremy Knowles, three-time Olympic swimmer from the Bahamas, also joined the line-up to teach IM transitions.
The clinic, which began on Saturday morning, included both pool and classroom sessions. Jerry began planning for the clinic in July. His first order of business: finding top-quality coaches who could and would focus on race-specific training and mental preparation.
Racing was the theme of the clinic, and to create awareness and interest in the clinic, Jerry sent out invitations to the swimmers in his area that he knew liked to race. "The overall theme was to help this type of swimmer learn how to train for enhancing his or her performance." As Jerry planned this clinic he knew that by keeping the number of participants down that each swimmer was going to get plenty of attention and one-on-one instruction.
"There is something really special that happens when swimmers are buying into a workout and the instructional suggestions coaches are rendering," said Jerry when asked about the success of the clinic. "I love being a participant in that environment," he continued.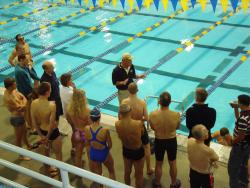 So what was Jerry's favorite part about the clinic? " I love it when the coaches start to get excited about what the swimmers are doing. Their enthusiasm is very evident and I know that the swimmers are positively affected by it." David reflected on his experience coaching at the Charlotte clinic: "There is a certain level of attentiveness with Masters swimmers. They are fascinated with the technology and swimming technique; they hang on every word and are really there to learn to be the best swimmer that they can be."

The camaraderie among swimmers is an undeniable result of a camp or clinic setting. Clinics, like the one hosted by Jerry Clark, bring together swimmers and coaches to discuss, share and develop swimming and fitness philosophies, tips, tricks and tools. Each participant gets better. "I have received nothing but rave reviews," said Jerry of the responses of the participating swimmers. Jerry has requested suggestions about how to improve the format of the clinic for next year and plans on offering the clinic on an annual basis.
There are plenty of swimmers across the country who would like to host a clinic or camps in their local area but aren't sure exactly how to get started. Jerry gives this advice: " First, decide whom the clinic will try to reach (novices, intermediates, fitness swimmers, triathletes, open water swimmers or competitive pool swimmers)." Each segment can benefit from a clinic or camp. "Next," according to Jerry, "start moving through the details; reserve the pool, sanction the event and, most important, publicize!"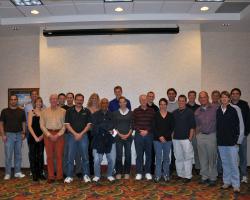 U.S. Master swimmers do not have to be a member of the same club to be considered teammates, to learn from one another or to engage in training and social fun. "When swimmers engage in a camp or a clinic they are able to focus on what they are there to do: learn. Masters swimmers are busy and have full lives outside of the pool, but when Masters swimmers commits their time to a clinic, they are able to be there, be in the moment, 100 percent," said David. Clinics and camps provide a platform for learning as well as interacting between swimmers and coaches.
---
Categories:
Technique and Training
Coaches Only