Coach of the Year is Like a Rock
Everyone needs someone in their corner!
They're there when we can't understand why we aren't getting faster, they're the voice we hear when we don't want to jump in the cold water, and they're the love and support we get when we accomplish our goals. Coaches: like a rock. Coaches are consistent, encouraging, inspirational and stubborn when we need them to be. Coaches serve as the most vital USMS ambassador to USMS athletes.

Each year Speedo and USMS award one coach with the title of Coach of the Year. The award is based on five elements of excellence: club and individual accomplishments, publications, contributions to USMS and the LMSC, letters of support, and long-term contributions to Masters swimming.

On September 27, 2008, in Atlanta, Susan Ingraham was honored as the 2008 Coach of the Year at the United States Aquatic Sports Banquet. To better understand Susan's thoughts on swimming, swimming philosophies, coaching style and other interesting facts about her, USMS staff member Ashley Gangloff interviewed Susan.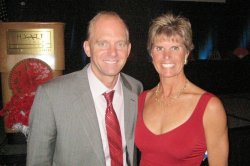 Ashley: First, the basics. How long have you been swimming? How long have you been coaching swimming? Have you always coached Masters?

Susan: I started swimming at age 11 and later swam on scholarship for University of Arizona. I began coaching after my freshman year in college for a local swim program. Like almost all Masters swimmers, I took 21 years off before returning to the pool. My Masters program began seven years ago with absolutely no swimmers for the first two weeks.


Ashley: If you're coaching, how and when do you find time to train yourself?

Susan: We have four workouts offered each day, so I used to rotate throughout the week the training groups that I could jump in with. Later, I hired two assistant coaches that cover four of the practices, which made it possible for me to swim at those times. I still coach from the water as well.

Ashley: Why coach Masters?

Susan: Coaching Masters has made me a much better swim coach. Adults tend to ask more questions and want explanation behind stroke changes. It has challenged me to be more insightful to each individual's mental, physical and emotional attitude that they bring to the pool each day.

Ashley: How do you keep athletes of all ages and skill level motivated to keep coming back to the pool?

Susan: I believe that everyone needs a gentle shove (sorry, I meant touch) to be guided towards a goal…whether they want it or not. All athletes, even fitness swimmers, will stay motivated if challenged. It could be to finish a 200 fly, complete the 10K Postal, or simply attempt a faster interval at practice. Goals are varied and personal, and no matter the age or ability of the swimmer, there is always something new to achieve. The pride that each swimmer receives by reaching a tough goal keeps them excited. They gain self-confidence, stay motivated, feel better about themselves and ultimately develop that lifelong love of swimming.

Ashley: Is there a practice or event that is unique to your team?

Susan: It's our holiday practices that we are known for. On average, we have three special days that we recognize each month. Our special event workouts bring out our biggest attendance, all of which we advertise ahead of time. We go above and beyond the usual Halloween, New Year's Day and Christmas practices. We have special workouts for Columbus Day, Groundhog Day, Earth Day, etc., as well as celebrate the Triple Crown, Golf's U.S. Open and Wimbledon. It's amazing how many things you can do with a tennis ball in the water!

Ashley: What are your coaching goals for next season?

Susan: I like having a team goal each year, something that we can all work towards. Even if not everyone chooses to participate in the actual event, it creates a team atmosphere of excitement at workout, as we all train, motivate each other, and taper with that goal in mind. Next year, I would like for everyone to try an open water event. To that end, we will work on pace sets, site breathing, and offer Saturday lake swims. We will then host our own open water race in August.

Ashley: How do you promote your club? How do you reach potential members?

Susan: I take advantage of bulletin boards at each of our pools, for which posts include weekly update notices, weekend warrior reports, entry forms, team records, etc. I have flyers and business cards at local triathlon and swim shops. Our team website is a good source for people searching for a workout, if coming from out of town or new to the city. When we host our postal swims, I always advertise at area pools what we are doing, and we get two to five new swimmers each year who now wish to train with us after giving a long swim a try. Word of mouth is always the best way to learn about any Masters program because of the personal connection with the athletes.

Ashley: What is your favorite set to give on a Saturday morning?

Susan: Saturdays are great to throw in that last challenge swim for the weekend. If I can just now go into the main portion of a fun/challenging Saturday set, I'd say use: 21 x 100's. The set is primarily free, with every third 100 an IM and every seventh 100 is 100 fly. (We go 1:40 on the free and 2:00 for IM/fly, if swimming meters.) The set makes you think, watch the clock, challenge your endurance, yet keeps the variety going that you get through the set without realizing how much yardage you're putting in.

Ashley: What is your favorite piece of training equipment?

Susan: Mirrors. We place them on the bottom of the pool for a great self-teaching tool on our technique days. I love watching them swim over them! You can see their strokes change as they watch themselves. They love the instant feedback on corrections made.

Ashley: Any advice for a first time swimmer?

Susan: Be patient. It takes a solid three weeks for your body to adjust to the aerobic demands you're placing on it. Remember, swimming is the best exercise for your body because it involves every muscle from your fingertips to your toenails. The problem is that you're moving every muscle in your body from your fingertips to your toenails…and it takes time for your heart and lungs to catch up to that fact.

Many of us wonder, "What makes a good coach a great coach?" Kerry O'Brien and Kris Houchens, past recipients of the USMS Coach of the Year, weigh in.
Kerry: Time. Good coaches that are passion-driven, have an honest assessment of their strength and weaknesses, are multi-dimensional (good in a variety of areas is better than great in one, will in time be great coaches.
Kris: I have been lucky in my career to see many great coaches up close. All of the great coaches I know have these things in common. They are passionate, they are organized and professional, they all see the need to help the sport outside of their own program, they share what they have learned freely when asked, they are always looking for the next newest thing, they are great at building positive relationships with their athletes, they are great motivators and they are humble. A great coach gives credit to the athlete when they are successful and takes the blame when they fail.
Ashley: What is the best piece of coaching advice you've received?
Kerry: I can't remember who [gave this advice] or how it came about, but if you are going to coach for the long haul, have a schedule that you can live with. As your program grows, build in measures that will fend off overwork and burnout, and fit the needs of your family. From the Harrison Ford movie "Blade Runner," a great line to remember is "The light that burns twice as bright only burns half as long."
Kris: Try and talk to each person and call each person by their name during a practice. Mel Goldstein taught me this and he had learned it from Doc Counsilman. The sweetest sound to a person is the sound of their own name. It can be a challenge with large workouts but I always try to do that when I coach. For Masters swimmers, the workout you see them at may be the only one they make that week. Acknowledging their presence can go a long way in developing a relationship with that swimmer and making them feel like a part of your program.

A USMS membership can provide you with many benefits, but one of its greatest values is access to some of the best swimming coaches in the country. USMS coaches not only design workouts to be physically challenging, but strive to challenge their athletes mentally and emotionally and enrich their lives both in and out of the pool. USMS coaches coach to "bring out the best in a swimmer, not to coach the best swimmer," according to Kris.

To find a Masters swimming coach in your area contact your local Masters program or LMSC. For more information and to view a complete list of LMSCs, click on http://www.usms.org/lmsc/


---