Bonnie Tsui Finds Joy After Returning to the Water
The USMS member wrote about her experience in the book "Why We Swim"
From "Why We Swim" by Bonnie Tsui. Reprinted with the permission of the publisher, Algonquin Books. Copyright © 2020 by Bonnie Tsui.
I end up joining a swim team again around the same time my own 6-year-old does. I spent a decade of my childhood competing, but it's the first time in more than two decades that I've trained and raced with others in practice. As an adult, I want to remember what it was all for. At the point of this comeback, I've just turned 40, so I guess I aspire to be an Everywoman Dara Torres. My team is the Albany Armada; Felix's is the Berkeley Barracudas.
The Armada is a Masters team, which means that it's part of U.S. Masters Swimming, the competitive swim team circuit for swimmers 18 and up. Established in 1970, U.S. Masters Swimming now has 65,000 members around the country and 1,500 teams and training groups, and it sanctions regional, national, and international meets. It doesn't matter if you're a 22-year-old water rocket just off a college team or a novice swimmer over 80—there's a spot for you. Some swimmers compete in meets, while others prioritize training as its own goal.
The head coach of the Albany Armada, Carol Nip, is a sun-burnished woman in her early 60s who wears bright-red lipstick and a big smile. Though I'd been swimming at the Albany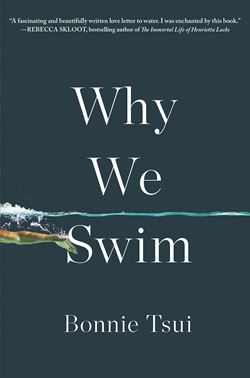 pool for four years, I'd never swum with the Masters team. It wasn't for lack of Coach Carol's recruiting efforts—I see why she has won national awards for superlative coaching and community building—I just wasn't sure I was ready for someone to tell me what to do in the pool again. I'd spent the last 20 years focusing on how to swim for fun and exercise, to swim an hour-long workout without worrying too much about speed and without the stress of competition. Masters Swimming intimidated me.
On our respective first days of practice, Felix and I both feel the same nervous butterflies quivering in our stomachs. Those time-worn social anxieties—Will it be fun? Will I be able to keep up? Will everyone be better than me?— are streaming on loop. As I walk out on the pool deck, I'm startled by the momentary feeling that I'm walking with the shadow of my girlhood self.

At practice with the Armada, I look at all of us in the water, flitting back and forth across the pool in our flashy, colorful suits—one thing that hasn't changed is that Speedos are still as gaudy as they ever were—and I see a school of flashing fish. After just a few weeks, I realize that I'd missed training with a team, the motivation of swimming together. I find that it's easier to make myself swim fast for someone else. Having teammates picks you up and pushes you along. In that school of fish, there's a shared consciousness and a shared purpose.
I go home after a particularly grueling midday practice, and when I rise from my desk, my left shoulder complains. Or else it's my right. Some days, I give age a concession and take an afternoon nap.
One morning, Coach Carol hands each of us a little notebook. Before she lets us get in the water, she makes us scribble down two goals for the next year. What do I write?

1. Do something that scares me.
2. Swim in a meet for the first time in 20-plus years???

Later, after practice, Coach Carol stops me outside the pool. "The Pacific Masters short course championships is coming up," she says cheerfully. "I think you can be really competitive in your age group. Mark it on your calendar!"
At these words, my adrenaline spikes, a Pavlovian response I thought I'd outgrown. But I'm curious about competing again. I find myself thinking back on those Sea Devil days. Who was that girl who once thrilled at a race? And what version of my competitive self would show up at the meet?
Competition day glints like an outdoor pool, all dewy blue and sunshine. On the early-morning drive over the Berkeley hills to the Soda Aquatic Center, I feel my stomach turning over. My left shoulder is still a little cranky from when I surfed two days ago. Just enough to remind me of my 40-44 age group. To offset the anxiety, I decided to swim two fast, fun events: the 50 breaststroke and the 100 IM, or individual medley—25 yards each of butterfly, backstroke, breaststroke, and freestyle.
The pool at the Soda Aquatic Center is a thing of beauty: 18 competition lanes that allow two heats to run concurrently, with nine lanes each. The pool is so big that there are two extra lanes in between, left empty as a buffer. A thin, translucent layer of fog hovers above the cerulean water, waiting to be burned off by a still-sleepy sun. Off to the left, behind a set of metal bleachers and a digital timing board, there's also a dedicated warm-up pool, open for use between races so we can stay loose.
Hundreds of swimmers are milling about, swathed in the shin-length hooded parkas that are particular to swim teams: bulky, fleece-lined nylon monstrosities in all colors, heavy on the reds and blacks and royal blues, trimmed with gold and black and white, embroidered with inscrutable acronyms. MEMO. TOC. EBAT. ALB. (I know that last one, at least, because it's us: Albany Armada.)

I still remember what to do. I shed my layers in a heap under our team's shade tent and snap on my cap and goggles, being careful not to poke a fingernail through the delicate yellow-and-navy latex of our team cap. After warm-ups, Coach Carol hands me a rubber band—a reminder to always be flexible. She also presses a blue ribbon into my hand. "You've won already," she says, grinning. "It's your first meet since high school!"
At the lane assignment for my first event, the 50 breaststroke, I take a long look around. I can't help noticing a swimmer in the 80-84 age group standing nearby, wearing a black cap, a red team parka, and matching bright lipstick, a serene look on her beautifully made-up face. I look at her, and something about her contented presence settles me.
The official calls my heat, and I step up to the starting blocks, at the precipice of that gorgeous, glorious, ginormous pool. Swimmers, take your mark. At the signal, I take the plunge.
The rush of water in my ears, a phroom like the ocean. That delicious silence underwater, strong pull, kick, gliiiiiide. The fragment of time is so full of possibility, I almost don't want to break the surface. When I do, I don't hear anything. Arms and legs are moving mechanically now, executing the breaststroke they've been practicing so faithfully. And yet my mind is moving a beat behind, not quite there with my body. It isn't until the second lap of the two-lap race that I wake up—suddenly, and with startling clarity—and everything clicks into focus. The last 15 yards, a surging in my limbs, as if I've just remembered to hit the gas pedal.
Afterward, when I'm not cheering for my teammates, I drift around the pool deck with a foolish grin on my face. I still have another race, and the results won't come in until hours later. (I place third in both of my events.) I'm no Olympic swimmer. My goals are modest; the stakes are low. But however fleeting it is, I remember what it feels like. A momentary lightness, the feeling of having done my ever-elusive best.
---