USMS members save the world one stroke at a time
The popularity of turning athletic events into fundraisers seems to have exploded over the past decade. Masters swimmers have joined the trend and now arguably do it better than anyone else. To celebrate the season of giving, we've selected three events to profile: the Veterans Day 5K in New York, the Swim For Freedom in Wisconsin, and a relay from South Carolina that tackled the Florida Keys Community College Swim Around Key West.
Veterans Day 5K
The Coney Island Brighton Beach Open Water Swimmers love their swimming; many love it so much in fact that they won't get out of the water when it gets chilly. So, as Cristian Vergara explains, when "[o]ne of our CIBBOWS swimmers, Anuradha Bhagwati, who is on the board of the Service Women's Action Network, suggested a charity race on Veterans Day,  we got excited because we knew it would be a cold water swim."
Vergara, 52, who swims for Metro Masters along with Bhagwati, 35, and his fellow CIBBOWS swimmers organized the race, which was held on November 6, 2010. They handled the fundraising by charging a $50 entry fee and requiring that each swimmer raise another $250 however they wanted. The event collected over $10,000 and benefitted two veterans' charities: SWAN, which is an organization dedicated to serving servicewomen and veterans, and the Wounded Warrior Project.
Because of the 54 degree water temperature for the event, "it was quite a task to obtain all the permits and authorizations. Safety plans had to be approved by the U.S. Coast Guard, the NYC Harbor Police, 60th Precinct, and the NYC Parks and Recreation Department," Vergara explained.
A unique feature of this chilly swim was that the swimmers didn't have to specify which race they would swim. "Originally, we were just going to do our regular course, but we changed it so at the end of each mile, people would be at the finish line and could get out if they were cold. We decided we'd rather have a nice event than casualties," explains Vergara.
But they prepared for the worst anyway. "With cold water, you have to keep an eye on every swimmer. Your volunteer to swimmer ratio has to be almost 1:1. We had beachwalkers and people on jet skis. We pulled two people out. But they and everyone else recovered just fine and had a good time at the party afterwards."
The winners of the non-wetsuit division, who swam the full 5K were David Barra, 45, of Shawangunk Masters and Janet Harris, also 45, who swims for Asphalt Green Masters.
CIBBOWS won't be hosting this swim next year, but their annual Coney Island 5K held in August will be the USMS Championship at that distance for 2011. And apparently, the New York subway goes right to the start line.
Swim For Freedom
On August 8th, 2010 several Masters swimmers participated in the 2nd Annual Swim For Freedom in Lake Geneva, Wisconsin to raise money for the Special Operations Warrior Foundation. The swim was an eight mile single lap of the lake; swimmers had the option of doing shorter distances if they wished which allowed people "of any skill level to participate," explained Steele Whowell, 33, the race's founder who swims for Wisconsin Masters.
There were a total of 30 swimmers, more than double the number from the year before. In addition to Masters swimmers, age group and college swimmers participated. The water temperature was pleasant - in the high 70s – but "we did have brutal weather including wind and rain, so a lot of people probably swam more [than eight miles] to avoid the wind," explains Whowell.
Whowell thought about creating the swim for the Special Operations Warrior Foundation because his father was in the Navy and Whowell himself considered becoming a Navy Seal himself but focused on swimming instead. "Then the real motivation came when a friend of mine sent me an email about another athlete doing long distances races for this foundation. Their role in the military is so necessary these days and the danger is so high, I just wanted to do something for them. So I reached out to the swim community and people I know. It's been fun, it's for a great cause and Lake Geneva is a beautiful lake. What's it's all about is raising money."
The swim raised just over $14,000, more than double the amount raised in its first year. Fundraising was done on a per mile basis. 
Charles Lorenz, 35, was the top male swimmer and the top fundraiser; he finished in 3:20 and raised over $3,000. Melodee Nugent, 43, was the fastest female swimmer in 3:58. Other USMS members completing the race were Jason Clark, 31, Erica Bergstrom, 23, Kiki Day, 59, Peg Schmidt, 51, and Kimberly Fitzgerald, 50. All swim for Wisconsin Masters. Dan Projansky, 52, swims for Illinois Masters and was the winner in the butterfly category – and the only entrant. His time for the approximately 13,000-meter race was 8:20. According to Whowell, Projansky had been training all summer for his feat.
With a lot of work and a great idea, Whowell was able to provide a premier athletic experience for participants and fulfill his charitable ambitions. That's multi-tasking in the 21st century.
Florida Keys Community College Swim Around Key West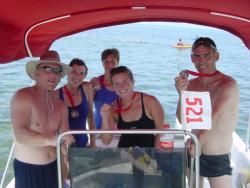 Lynn Menches organized a five-person relay to do the FKCC Swim Around Key West as a fundraiser for Charleston, S.C. based Water Missions International. "We chose the FKCC swim because it was USMS sanctioned," she says. Joining her in Key West were Jeff Garrard, 56 of Palmetto Masters, Lesley Fanning, 42, of Southern Marlins Racing Team, Sarah M. Mooney, 28, of New England Masters, and Lynn's husband, Bob Menches, 49, of Pametto Masters.
Menches, 49, also swims for Palmetto Masters. She explains her reasons for doing the swim: "We swim in water every day that is cleaner than most people have to drink. We just wanted to bring awareness to the global need for potable water." Menches wrote in a follow up email: "[I remembered that an] article in SWIMMER inspired me to get our group together. [It] was about a relay team from Livermore, CA who had done an open water swim in Hawaii to fundraise for Living Water International, an organization similar to Water Missions International. I contacted one of their swimmers, Adrianna English, (35, swims for Livermore Valley Tennis Club) and she was very supportive and shared what they'd done and how they'd organized their efforts, which was very helpful."
"Everyone swam 30 minutes each to start, then we switched to 10 minute intervals. Except for Sarah who swam for Navy and my husband Bob who swam for N.C. State, we were all just mediocre age group swimmers. The day was beautiful, the water was smooth." The only real aquatic excitement came, Menches remembers, "when I dove in and a huge tarpon as big as me swam right under me."
They finished the 12-mile swim in under five hours and raised almost $3,000 through "word of mouth and just asking people we knew." After the swim, Menches continued her involvement with Water Missions by volunteering one day a week to build water systems. She also plans to return to Key West in 2011 and do the same swim, hopefully with two teams.
Summing up the experience, Menches said that "it was just the most incredible thing I have ever done. We had such a good time doing it. To complete the race and know we had raised some money was a great feeling."
---
Discuss this article with the USMS Community
---