A Masters Swimmer Returns to College Swimming
You can go home again, if you're fast!
In 1977 Suzanne Heim-Bowen was a founding member of the women's swimming team at California Polytechnic State University, San Obispo, Cal. (Cal Poly), but only competed for two seasons during her college career. With remaining eligibility, Suzanne enrolled in classes and joined the swim team at Diablo Valley College, a two-year community college, in early 2009 at the age of 50. Suzanne maintains her full-time job as a school psychologist, attends a full schedule of college courses, and manages to swim with not one, but three, teams in her local area!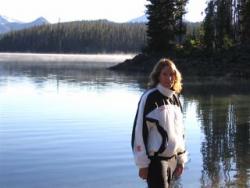 "My husband is one of the water polo coaches at Diablo Valley College and was approached by the captain of the swim team," said Suzanne. She continued, "The captain knew that I was a distance swimmer and asked my husband if I had eligibility left." The Diablo Valley College swim team needed a miler to assist them in their quest for a conference title this season and hopes of landing a top three place in the state. Suzanne, a renowned distance and open water swimmer, was a perfect solution. "When my husband told me about the conversation he had had at the pool, how could I say no?" exclaimed Suzanne.
Suzanne, whose college swimming experience never seemed complete, was thrilled to get the opportunity to be a part of the team and the team was even more enthused to have such an experienced swimmer in their lanes. "They have really accepted me," shared Suzanne, who joked, "They call me the team mom. I guess I should be happy that they are not calling me the team grandma." Because of Suzanne's demanding schedule, which begins with college classes at 6:30 a.m. and moves into work, practice and then more classes, she continues to swim with her local Masters program, Walnut Creek Masters, during the week and swims with her college team on the weekends and over holidays. Suzanne's first college meet will be in two weeks. The Diablo Valley College swim team's season lasts roughly 13 weeks in total.
The level of enthusiasm among the college swimmers provides Suzanne with a great environment in which to train hard and have fun. "The team does cheers, high-fives one another, and provides support during tough sets," said Suzanne. "I am doing pretty well against the college swimmers [in distance sets], but don't ask me to sprint against any of them ... they are amazing," replied Suzanne when asked how she was holding up compared to her teammates.
Diablo Valley College, like many community colleges, welcomes athletes of various skill levels. "There really is a place for everyone," Suzanne explained. Suzanne is not only getting support from her teammates, but has provided insight and encouragement to them as well. "One girl discussed her plans to move on to a four-year college in the future; however, she said that she would not continue swimming. I reminded her that even though she will not compete on the college team at a four-year college, that there is always a place for her within U.S. Masters Swimming. I shared my Masters experiences with her and encouraged her to stay in the water. I am thrilled to get the opportunity to raise awareness about Masters swimming," said Suzanne. Suzanne continued by explaining the level of respect among various USA Swimming teams, U.S. Masters Swimming teams and college teams in her local area. "It is like an evolution of swimming," continued Suzanne. "When an athlete is finished with one team he or she can move on to the next. There is always a next step for anyone who is interested in continuing their swimming career." Suzanne is an incredible advocate for U.S. Masters Swimming and continues to inspire young athletes everywhere to continue to have fun in the water.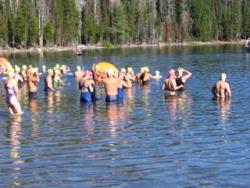 Suzanne, though juggling a busy schedule, will be attending multiple U.S. Masters Swimming events this year. She intends to compete at the 2009 U.S. Masters Swimming Short Course Nationals as well as various open water events throughout the year.
---