13th Annual Cascade Lakes Swim Series and Festival
There was something for everyone in beautiful Oregon lake
The Oregon LMSC held the 13th annual Cascade Lakes Swim Series and Festival from August 1 - 3. This swim festival is located in Elk Lake, Ore., which is one of the Cascade Lakes. It is a picturesque mountain lake at 5,000 feet elevation surrounded by the South Sister and Broken Top Mountains. Mount Bachelor is just a few miles down the road. The water temperature of the lake was 67 to 71 degrees F.

The events included the USMS 5K National Championship [results] plus separate 3K, 1500, 1000 and 500 swims. This truly was a weekend of swimming, relaxing and socializing as this event had something for everyone.

Friday night at 6:00 p.m. was the 3K. The course was well marked and the sun was still out, but by the finish time the mountains began to cast their shadow on the lake. Very stunning! There was an incredible dinner afterwards provided by the Central Oregon Masters.

The next morning warm coffee, bagels and fruit were served before the 500 free. For those who don't like mass starts, this was a perfect event. Swimmers were organized into a very long line by seed times and sent off at 20-second intervals. While waiting for the next event, there were festivities for children ages 3 to 8 years old — kicking team races, searching for rubber ducks, etc., and all the children came away with a medal. . This was definitely a Kodak moment — lots of smiles and enthusiasm from the children.

A few hours later we swam the 1500 and afterwards there was another excellent meal. On Sunday check-in was at 7:15 a.m. for the USMS 5K National Championship. The course was well marked and the lake flat as a pancake. The beach was so large that there was plenty of room to start without getting crunched.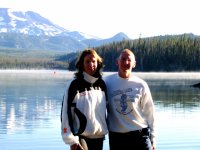 Later there was a 1000m race. This event had a twist to it. The course was shaped very oddly (on purpose) and swimmers left in groups of 10 (seeded by 500 yard time) and about a minute apart. At this point no one wanted to take the lead, everyone was tired, and just plodded along until the very last 10 yards. Again, COMA provided an incredible array of food and sandwiches. If it sounds as if one could eat his or her way through the weekend, you're right!

There were separate divisions for people who wanted to wear wetsuits — and there were many wetsuits. It was great to see people participate by whatever means. This event had something for everyone at all different ability levels. This swim rates five fishes!

Thanks to Suzanne Heim-Bowen for alerting us to this event.
---