The Lengths Swimmers Go to for Laps
The hardest part for many Masters swimmers is fitting a practice into their busy lives. Well, the hardest part for some Husky Masters swimmers comes when they make it to the pool at practice time, only to find the door locked.
The Husky Masters website warns that: "[p]ractice times are subject to change due to pool availability." That is often true for Masters teams that have to take what's left after other programs have first choice. But few teams have it as tough as Husky Masters, a workout group of Pacific Northwest Aquatics. Yet, the team is still growing thanks to passionate members and great leadership. "Members will stand out in the cold for an hour just to swim," says Jaki Braggin, 24, and a member of Pacific Northwest Aquatics and membership coordinator for Husky Masters.
The team started in 1981 and is both competitive and welcoming of all skill levels. It weathered a few storms in its 30-year history, but none as large as the one that swept away the University of Washington Men's and Women's swim teams in 2009. Braggin explains: "We shared their coaches and their pool space, and often volunteered to help with team functions. We attracted a lot of fast swimmers because of the number of practices and expert coaching. The pool is now run by the University's intramural athletics group, which makes pool space more limited and expensive. Our practice times get shifted around and often we get accidentally locked out of the pool. Despite all of these issues, our team has persevered under this new system for nearly two years and is still growing! I'm very proud of my team for continuing to attract new swimmers."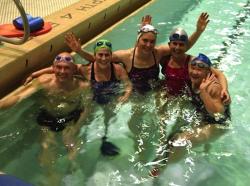 Why did everyone come together? "So many people were invested in this team and we all rallied together to rescue the team. They are just so passionate about swimming and their team that nothing can deter them. It's crazy and wonderful the lengths people will go to to get a workout in."
Pool usage fees were higher thanks to the internal changes and budget restrictions at the university, so the team shut down for the summer in 2010 since many members did more open water swimming then. "But in October of 2010, we were able to start back up," says Braggin.
"The days for the practices get changed every quarter, which means people have to be willing to adjust their schedules four times a year or more. I would like to reach out to other struggling teams to let them know that they can keep their programs going under difficult circumstances."
It takes a passionate village to keep a team going. And a willing coach. "He waits outside with everyone else when we get locked out," Braggin says of Coach Eric Epler, 26. Even though they have fewer practices a week, Husky Masters swimmers can connect through the team's Facebook page, which has been a wonderful tool for developing camaraderie.
Despite having to devote so much time and energy to finding times to swim, the team is still reaching out and promoting Masters swimming in the community. "We're going to do an 'Intro to Masters' clinic to invite more triathletes to check out Masters swimming," says Braggin enthusiastically. Team members are promoting the event through flyers at other pools and word of mouth.
When swimming is a priority, people find ways to make it happen. U.S. Masters Swimming salutes the leadership and swimmers of Husky Masters for keeping their team afloat and flourishing and hopes their "can do" spirit helps other teams with similar struggles.
---