Articles and Publications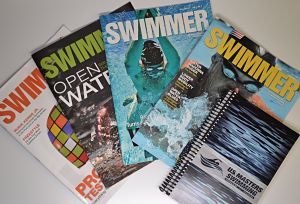 SWIMMER is our premier bimonthly print publication. Our members tell us that their subscription to SWIMMER is one of their favorite benefits of USMS membership. Each issue is packed with interesting profiles, physiology articles, technique features, history, product reviews, health and nutrition information, and much, much more. With award-winning writers, guest editorials, and now a digital version with multimedia content, we think SWIMMER will quickly become your must-read-cover-to-cover publication.
STREAMLINES is delivered to your inbox each month, and features technique tips, personal stories, event updates, announcements and much more. Each issue features clubs and swimmers from around the country.
STREAMLINES for Coaches, which you'll receive as a USMS coach, contains tips from experienced coaches on managing your club and teaching technique, as well the course schedule for USMS coach certification and updates on the special partner benefits available to USMS coaches.
STREAMLINES for Volunteers is a bimonthly eNewsletter that contains critical, up-do-date information and resources to help you connect with other volunteers and find the resources you need to make the most of your volunteer experience.
Looking for help with your butterfly? Need information about cross-training? Want to read about swimmers just like you? Just want to read the last few press releases? Our article search page will help you find the articles you need, fast. It's our goal to pack usms.org with the best, most current information for our members. Check back often as we build our library of articles and videos.
Submission Guidelines for USMS Publications
Are you a reader with a great idea for an article? Have a Haiku poem to submit? Are you a professional writer who wants to write about swimming? All our publications are for members, about members, and by members. We want to hear from you!
Before there was a USMS magazine, June Krauser created and published the Swim-Master newsletter. It was published from 1971 to 1991.
The U.S. Masters Swimming Code Of Regulations And Rules Of Competition is written by our volunteers and published annually. It is available online or in hardcopy print format.