2001 Short Course Nationals
George F. Haines International Swim Center
Santa Clara, California May 17-20, 2001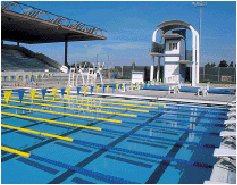 Santa Clara Swim Club is proud to have hosted the 2001 USMS Short Course National Championships for the 1849 swimmers who entered the meet. We hope that all enjoyed their time at the meet.
Meet Results
Complete results from the meet are now available in several formats. Individual results are provided for each age group, each event, and in a searchable database. Final team standings are available in each of the team size categories for Men, Women, and Combined teams.
Records
There were 105 record-breaking individual performances recorded at this meet in 101 event/age group categories, and 14 record-breaking relay swims. The complete list of record performances is provided here.
Meet Information
The complete meet information document and entry form can be found here in Adobe Acrobat (PDF) format. This is identical to the version that appears in the January issue of Swim Magazine. To download Adobe Acrobat Reader, Click Here. (it's Free)