2000 Short Course Nationals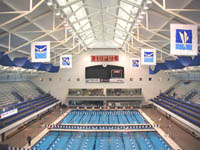 Indiana University Natatorium
Indianapolis, Indiana April 27-30, 2000
Greater Indiana Masters (GRIN) and YMCA Indy SwimFit are proud to host the 2000 USMS Short Course National Championships. Participants are asked to read the meet information carefully and refer to the checklist on the entry form to avoid any problems or misunderstandings regarding the conduct of the meet. All times listed are Eastern Standard Time.
Final Results
Final Results are now available for the meet. The results are also available in our on-line searchable results database, where you can search for an individual swimmer's results or the results for a particular event / age group. Congratulations to all swimmers and the meet host for a fine weekend!
Meet Timeline
An Estimated Timeline is available for the meet. This is only an estimate, and not a guarantee of any kind - swimmers are responsible for reporting to their assigned heat/lane on time based on how the meet actually progresses.
Heat Sheets
Heat sheets are available for all pre-seeded individual events in both HTML and PDF formats (psych sheets for deck-seeded events).
Meet Roster
The meet roster is now available in several formats: There are 1,398 swimmers entered in this year's short course championship. The complete roster is available on line in several formats:
Alphabetical list of swimmers (PDF version)
Swimmers by team (PDF version)
Meet Information
The complete meet information document and entry form can be found here in Adobe Acrobat (PDF) format. This is identical to the version that appears in the January issue of Swim Magazine (minus the graphics and pictures). To download Adobe Acrobat Reader, Click Here. (it's Free)