1999 Short Course Nationals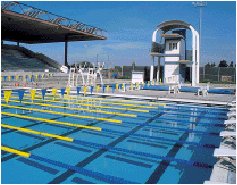 Santa Clara International Swim Center
Santa Clara, California
May 13-16,1999
Santa Clara Swim Club is proud to host the 1999 USMS Short Course National Championships. Participants are asked to read the following information carefully and refer to the checklist on the entry form to avoid any problems or misunderstandings regarding the conduct of the meet. All times listed are Pacific Daylight Time.
Location
Santa Clara International Swim Center, 2625 Patricia Drive, Santa Clara, California 95051.
408/246-5050 408/246-5055 fax
South on 101, exit right on San Tomas Expressway (north, exit left). Right onto Homestead, right onto Las Palmas, left onto Patricia Drive. South on 280, exit left onto Saratoga Ave. (north exit right). Turn left onto San Tomas Expwy, left onto Homestead Rd, right onto Las Palmas, left onto Patricia Drive.
Facilities
Two courses, heated outdoor competition pool, both 25 yd 10 lanes. Adjacent are two 25 yd 6 lanes warm-up pools. Covered bleachers for 5000 spectators and participants. Electronic timing, with Colorado 5000 Timing Devices and aquagrip pads. A full snack bar will be available. Parking is limited at the Swim Center. The Santa Clara Valley enjoys a Mediterranean climate. May temperatures are typically moderate - warm, but early mornings and evenings can be cool.
Emergency Telephone
408-246-5050
Meet Shuttle Service and Parking
Shuttle will be provided only from Santa Clara Marriott and Days Inn. 500 free parking slots. Paid parking available adjacent to the pool for $3.00 per day.
Ground Transportation
Transportation from the San Jose Airport to the hotels (15 min): taxi or hotel shuttles.
Meet Officials
Meet Referee - Bud Meyer
Admin. Referee -Anneliese Eggert
Meet Directors: Alma Guimarin & John Bitter.
General Meeting
All swimmers, coaches and officials should be represented at the general meeting Wed., May 12, 1999 6:15 PM. Matters pertinent to operations and conduct of the meet will be presented.
Coaches Hospitality
Coaches hospitality is available to all MACA/ASCA members.
Coaches Meeting
A meeting of the Masters Aquatic Coaches Association (MACA) will be held on Saturday, May 15 at 6:00 AM at the International Swim Center.
Coaches School
A Masters Aquatic Coaches Association (MACA) Certification School will be held Wed, May 12 from 1 to 5 PM at Courtside Club, 14675 Winchester Blvd., Los Gatos, CA 95030. For a registration form, send SASE to above address Attn: Mo Chambers. Cost is $40/$35 for MACA members.