2004 Short Course Nationals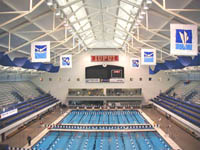 Indiana University Natatorium
Indianapolis, Indiana April 22-25, 2004
Indy SwimFit is proud to host the 2004 Short Course National Championships. Please read all information carefully and refer to the checklist on the entry form to avoid misunderstandings or problems regarding the conduct of the meet. All times listed are Eastern Standard Time (EST).
Meet Results
Final results from the meet are now available. The individual results are available by event, by age group, and in a searchable database. Relay results are available for men's relays, women's relays, and mixed relays. Also available are the team results and USMS record breaking performances.
Daily Heat Sheets
PDF files are available for Friday's, Saturday's, and Sunday's heat sheets. Please note that all events longer than 200 yards are not included in these heat sheets. Such events will be deck seeded (check-in required - see below), and the heat sheets for these events will be made available during the meet.
Meet Roster and Psych Sheets
The meet roster and event psych sheets are now available. There are 1,564 swimmers entered in the meet representing 157 teams. Swimmers who have entered six events for this meet will be permitted to swim in all six of their events (the sixth event will NOT be dropped). The list of team divisions for each of the categories (men, women, and combined) is also available.
Meet Seeding, Event Check-in, and Estimated Timeline
Given the reasonable size of this meet, the Championship Committee has decided to pre-seed all events of 200 yards or less. Estimated timelines for the meet events are also available. Swimmers entered in the 400 IM or the 500, 1000, or 1650 Freestyle will need to positively check in for these events at the meet venue or via the on line check-in system. Check in for these events will be available according to the schedule available at the on line check-in system page.
Meet Information
The complete meet information document and entry form can be found here in Adobe Acrobat (PDF) format (673 KB). This is identical to the version that appears in the January issue of Swim Magazine. To download Adobe Acrobat Reader, Click Here. (it's Free)
Web-viewable versions of the meet information are also available here.