2004 Long Course Nationals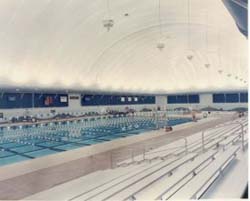 Chatham County Aquatic Center
Savannah, Georgia August 12-15, 2004
Savannah Masters welcomes you to the Low Country! While in Savannah, make sure you take in the unique sights and spots in what has been called "America's Most Beautiful City." Please read the following information carefully and refer to the checklist on the entry form to avoid misunderstandings or problems regarding the conduct of the meet. All times listed are Eastern Daylight Savings Time (EDT).
---
Final Results Available
Final results from the meet are now available. The individual results are available by event, by age group, and in a searchable database. Relay results are available for men's relays, women's relays, and mixed relays. Also available are the team results, the list of USMS and World record breaking performances, and a zip file containing results text files per LMSC (useful for newsletter editors).
---
Meet Roster and Psych Sheets
Entries for this meet are closed as of July 8. There are 1,084 swimmers entered in the meet. The preliminary meet roster and psych sheets are now available for review.
Due to the size of this meet and the anticipated extended length of the events for each day, the sixth event has been dropped. All swimmers who entered six events for this meet have had their designated sixth event removed from their entry.
---
Savannah Times Newsletter
The meet host has sent out several E-Mail newsletters to all meet entrants. These newsletters are also available here:Volume 1, Volume 2, Volume 3, Volume 4.
---
Meet Timeline
The estimated timeline for the meet is now available here in PDF format. The Time Line is ONLY a guide to swimmers for use in determining the start of all events. It is the responsibility of all entrants to get to the pool for their event.
---
Team Divisions
The team divisions for the meet are now available in PDF format or in a web-viewable format.
---
Meet Information
The complete meet information document and entry form can be found here in Adobe Acrobat (PDF) format (1 MB). This is identical to the version that appears in the May issue of Swim Magazine. To download Adobe Acrobat Reader, Click Here. (it's Free)
Web-viewable versions of the meet information including some additional details about the meet and the Savannah area are also available here.