2000 Long Course Nationals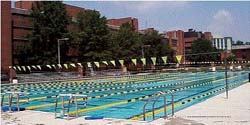 University of Maryland, Baltimore County
Baltimore, Maryland August 17-20, 2000
Maryland Masters is proud to host the 2000 USMS Long Course National Championships. Participants are asked to read the meet information carefully and refer to the checklist on the entry form to avoid any problems or misunderstandings regarding the conduct of the meet. All times listed are Eastern Daylight Time.
Results
Final results for the meet are now available. There were 77 USMS and 51 world record breaking performances in the meet by 33 individual swimmers and 7 relay teams.
Conduct of the Meet
Information on the conduct of the meet is now available for participants to review. This information includes information on starting locations for even/odd heats and starting procedures from one heat to the next.
Time Line
The estimated timeline for the meet is now available for participants to review.
Heat Sheets
Heat sheets are now available for all pre-seeded events, and updated psych sheets for deck-seeded events.
Important Reminders
The sixth event has been dropped from this meet due to the large number of entries (1380). Swimmers may not alter their sixth event designation for any reason, as this would provide an unfair advantage after seeing the other entries.
Warmups: On Wed, August 16, the competition pool will be available for warm-up from 12:00 noon until 7:00 pm. On competition days, only the competition pool will be open at 6:30 am for warm-up prior to competition. Competition will start at 7:30 am each day. The indoor pools will be open 15 minutes prior to competition. Swimmers must enter the pool feet first in a cautious manner during warm-ups. No diving is allowed at any time in the indoor pools. Racing starts, including backstroke starts, are allowed only in designated sprint lanes during the pre-meet warm-up sessions.
The complete meet information document and entry form can be found here in Adobe Acrobat (PDF) format. This is identical to the version that appears in the May issue of Swim Magazine. To download Adobe Acrobat Reader, Click Here. (it's Free)