Virtual Geographic Swim Series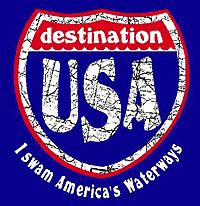 Virtual Swim Series - Join others throughout the country and world in applying any pool lengths you actually do to virtually swimming some of the most important bodies of water in the US. Each swim was designed by a Masters swimmer who lives close to the featured waterway. Some of our virtual swims are actually open water courses, and others are waters most would not dare to swim in reality. These Virtual swims are also designed to educate you about the different places, and perhaps, lure you to visit someday.
New swims are added to the event each year. You may choose any combination of events presented from the list of Virtual Swim Series Feature Events. Use the Computerized Virtual Swim Logs to record the dates you swam and the yards (or meters). At the end of the year send in the swim logs and the registration form and entry fee.  Your swims and miles will be listed on the website and you will receive a certificate.  There is a special prize for the two swimmers (male and female) who completed the most miles.  Commemorative T-shirts will be available each year.  Start January 1 and see how many waterways you will travel during the year.  You will be amazed!
If you are interested in designing a swim for your area, please submit your ideas to the Fitness Chair, for review.
Computerized Virtual Swim Logs
USMS Virtual Swim Series Feature Events