2010 Summer Nationals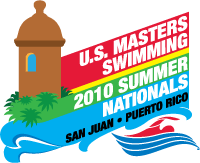 San Juan, Puerto Rico
August 9-12, 2010
Real Time Results and Daily Results
Real time results will be available here during the meet. Follow along from home to see how your team mates and family members are swimming. Results are also available by age group each evening after the day's events are complete, as well as in our searchable results database.
Video Recaps
A daily video recap of the action in San Juan will be available here. Check out our entire gallery of meet videos .
Meet Roster, Heat & Psych Sheets, Estimated Time Line
The meet roster, team rosters and heat/psych sheets for individual events are available for review. There are 632 swimmers entered in the meet, and the decision has been made not to drop swimmer's sixth events.
An estimated time line for the meet is also available. Note that this is only an estimate. All swimmers are responsible for showing up for their assigned heat/lane whenever that may occur.
Aquatic Facility
The Natatorium of San Juan is a world class facility, with a 10-foot deep, 10 lane, 50 meter competition course and an 8 lane, 25 meter warm-up area in the diving well. The facility was modeled after the 1996 Atlanta Olympics Natatorium at Georgia Tech. The pools are covered to protect swimmers from the sun but open on the sides to provide an outdoor swimming environment. The natatorium seats 2,000 people and is located on the east side of San Juan Central Park.