USMS Award Recipient
Capt. Ransom J. Arthur M.D. Award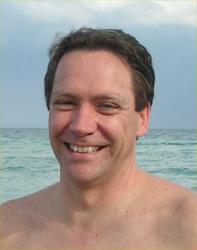 Jim Matysek received the Capt. Ransom J. Arthur M.D. Award in 2022, along with his wife, Anna Lea.
Jim held a variety of roles in four different LMSCs. His volunteer service began with the Niagara LMSC in 1989 when he was tasked with taking meet entries, running the timing console, creating results, and serving as meet director. He assisted the 1994 USMS LCM Nationals organizing committee prior to the meet and documented USMS and World records during it. Jim held the roles of Registrar, Top-10 Recorder, Records chair, Webmaster, and Sanctions Chair at various times and other LMSCS: Missouri Valley, Florida, and Allegheny Mountain
In 1995 Jim learned about the recent USMS Annual Meeting and a newly formed Ad Hoc Computer Online Committee, which was tasked with creating a website for USMS. His teammate, Betty Barry, was appointed chair of the committee and recruited Jim. A software engineer, he taught himself web development, researched web hosting needs, and created the USMS website the following year. Jim continued to serve as the volunteer Webmaster for many years, regularly creating new features to meet the ongoing and increasing needs of USMS members and volunteers.
In 1997 Jim created the initial USMS Discussion Forums where they quickly became the most popular swimming discussion forums worldwide. In 1999, USMS was put in the spotlight with Jim's creation of the world's first swim meet online entry and payment system. And in 2002 he leveraged the forums to allow USMS coaches to provide online daily coached workouts, sub-forums for each LMSC and Zone, and private discussion forums for all committees.
As the official USMS Webmaster, Jim moved to Sarasota, FL to become a member of the National Office in 2009. He soon became an active volunteer with the Sarasota Sharks Masters, assisting with annual swim meets, open water swims, and other activities. There isn't a local volunteer role that Jim hasn't performed, from body marking at open water events to being the team's statistician.
Jim and Anna Lea's volunteer service totaled over 60 years (as of 2022) at the local, LMSC, and national levels. Each of them won the Dorothy Donnelly Service Award (Jim in 2000, Anna Lea in 2004). Jim was honored with a dedication in the USMS Rule Book in 2000, and Anna Lea received the same honor in 2018. They made a great team!