USMS Award Recipient
U.S. Masters Swimming Officials Excellence Award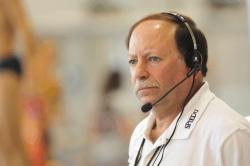 Ed began officiating for USA-Swimming in 1992 and never stopped. He gained his USA National Official status in 1995 and worked Zone, Sectional, and National level meets regularly. He was a Computer Timing Console Operator for swimming during the 1996 Olympics in Atlanta. He also served as a Stroke and Turn Official during the Olympic Modern Pentathlon swimming events and the Paralympics. Ed officiated at high school competitions from 1993-2013 and NCAA events since 2004. He was on the FINA Masters Officials list from 2003-2006.
On the USMS level, Ed started attending conventions in 1999. He joined the Officials Committee in 2000, serving as either chair or vice chair for eleven years. Under his leadership, many positive changes to officiating Masters occurred. Ed served on the Records and Tabulation Committee from 2001 through 2007. He joined the Championship Committee in 2010 and remained a member of that committee as well. Ed was elected chair of the Dixie Zone in 2017 and served also on the LMSC Development Committee.
It wasn't not all about officiating for ED. He took on many LMSC positions including Treasurer, Webmaster, Sanction Chair, Records & Top Ten Chair, and of course, Officials Chair. Ed officiated at 37 USMS National Championship meets and served as the Officials Committee Liaison to several USMS nationals. He received the USMS Dorothy Donnelly Service Award in 2001 and the USMS National Championship Meets Award in 2013.