USMS Award Recipient
Capt. Ransom J. Arthur M.D. Award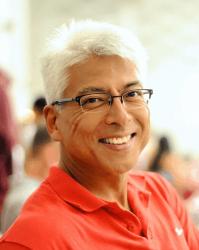 One can argue that USMS's volunteers rival the most passionate, dedicated and tireless volunteers of any organization. To receive the award, given to the volunteer who has done the most to further USMS's objectives, means one's service has gone above and beyond. Ed Tsuzuki is the epitome of this description.

Ed began coaching and running a club in the New Jersey LMSC in the late 1990s. Entrenched in local volunteerism and bitten by the Masters Swimming bug, he began his service as the Top Ten & Records Chair and added Webmaster and eventually Secretary to his list of local responsibilities. Ed's involvement expanded to the National level in 1999 when he served on the USMS Records & Tabulation Committee and was chair in 2008-2009. His service has included work on the End-to-End Event Management Task Force for online meet registration and record tabulation and event calendars, search committees for hiring our CEO, Chair for new delegate orientation, and Chair of the annual Convention Task Force.

He has enthusiastically and effectively held the USMS national board positions of Vice President of Operations and Vice President of Administration, each for 4 years. As an affirmation of Masters Swimming's respect and appreciation, Ed has was awarded the Ted Haartz USMS Staff Appreciation Award and was appointed as liaison to USA Swimming. Ed's selflessness and unbridled enthusiasm is exemplary of the spirit of Ransom J. Arthur.