USMS Award Recipient
Ted Haartz U.S. Masters Swimming Staff Appreciation Award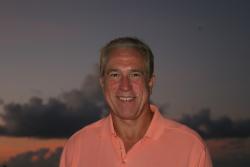 Written and presented by Laura Hamel at the 2016 Annual Meeting
This award is named in honor of Ted Haartz, a leader in U.S. Masters Swimming since 1970. Ted helped establish the foundation for USMS's evolution into a professionally-operated organization. The award celebrates our volunteer roots, as well as our future, specifically by recognizing one volunteer each year who demonstrates excellence in assisting and supporting the National Office staff with its professional duties of serving our members and promoting Masters Swimming.
In 2009, as the staff was slowly being assembled, there was one volunteer leader to whom we were immediately introduced when we had questions. And we had a lot of questions. It didn't seem to matter what the topic was, this person had answers.
Not only answers, but actions—he'd been involved in nearly every aspect of USMS. Early efforts to support, educate, and certify Masters coaches? Check. Gathering our sports medicine experts to collaborate and share their knowledge for the benefit of all members? Check. Bringing assets such as SWIMMER magazine in house so we could tell our own stories? Check. Recognizing the ever-evolving digital age and the need to invest in information technology? Check.
But there was another reason we were introduced to him: He was one of our biggest supporters before we were even hired.
For decades USMS was operated solely by volunteers. In the 1990s membership started to take off and there was acknowledgment that accelerated growth would eventually cause the workload required to serve this growing population to exceed a threshold that could be expected of a volunteer army—even one as amazing as ours.
This prescient leader wasn't looking at this strictly with his USMS goggles on. He's served at national and international levels through affiliations with USA Swimming and the other United States Aquatic Sports governing bodies, UANA, FINA, and more. This multifaceted, wide-angle lens has provided clarity and a grounded, sensible vision that's helped propel USMS forward, keeping us relevant and dynamic.
This passionate advocate recognized greatness in the organization he loves, and he knew that by adding a bit of professional talent, USMS could wildly exceed expectations, rival any membership organization in service and delivery of benefits, and continue to promote a lifestyle that's become literally lifesaving for tens of thousands of people who swim for health, fitness, fun, and competition.
An entrepreneur himself, this savvy business owner knew that attracting and retaining talent meant developing a competitive benefits program. He spearheaded these efforts and continues to work to ensure that USMS remains a great place to work, with a corporate culture that recognizes and cares for its employees.
Beyond tangible benefits, though, he's made it a point to personally encourage every member of the staff—he's offered his advice and support consistently—letting us know that our work is helping usher USMS into new and exciting territory. In doing this, he inspires us to work harder.
All while he continues to work hard. He recognizes the value in the USMS brand, and has ardently supported brand initiatives and recognition strategies, including the 2012 Summer Nationals in Omaha, the 2013 Pan Am Championships, and countless others.
He has an encyclopedic knowledge of all things USMS and he consistently asks: "What's the big picture?" Well, the picture of USMS today would be missing a large number of pixels without his leadership, vision, passion, and dedication to excellence.
So, it's with admiration and gratitude that we present Dr. Jim Miller with the 2016 Ted Haartz Staff Award.