USMS Award Recipient
Ted Haartz U.S. Masters Swimming Staff Appreciation Award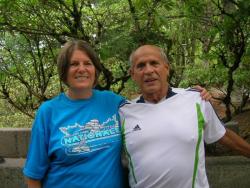 Written and presented by Susan Kuhlman at the 2014 Annual Meeting
Each year, the Ted Haartz Staff Appreciation Award is given to a special volunteer, chosen by the staff. The Award is named in honor of Ted Haartz, who's been a leader in U.S. Masters Swimming since 1970. Ted helped establish the foundation for USMS's evolution into a professionally operated organization and he was the inaugural recipient of this award in 2009.
The Staff Award recognizes one individual who demonstrates excellence in assisting and supporting the national office staff with its professional duties of servicing, promoting, and building the membership; and carrying out the vision and strategic plan set forth by our volunteer leadership.
Speaking of the strategic plan, this is a topic at every annual meeting, and I want to share a little history with you. Recently we came across the 1999 Strategic Plan. This is 10 years prior to forming the national office. Items in that plan included:
• Increase our outreach to potential new members
• Increase retention of current members
• Increase USMS exposure through the media and sponsorships
• Implement adequate staffing at the national level
• Increase the number of USMS coaches and provide education and training for them
• Promote the USMS Endowment Fund (now the Swimming Saves Lives Foundation).
Sound familiar?
This year's Staff Award recipient was on that Board of Directors in 1999 and played a vital role in moving USMS forward; setting the groundwork for the successes we're celebrating today.
She's best known for her financial leadership skills. You have seen her in action during this convention. At the local level she's served as a zone treasurer, LMSC president, vice president, treasurer, and registrar. At the national level, she's served as a member of the USMS Board of Directors, treasurer, member of the Audit Committee, and chair of the Finance Committee. She's been instrumental in the creation and implementation of the checks and balances contained within the Financial Operating Guidelines and Finance and Audit Committee responsibilities.
Her expertise as a CPA has resulted in a clearer understanding of the federal nonprofit tax returns. But not only at the national level—USMS's 52 LMSCs each have to file tax returns as well, and her advice on issues that crop up during that process has been invaluable in helping the staff understand and be able to assist the LMSC volunteer leaders with their tasks.
This year's recipient has a knack for making complex financial issues understandable. She has served, supported, and influenced many with her vision and skills, and her efforts contribute greatly to getting the business of the organization done.
When she starts a sentence with: "Let's think about this for a minute," you realize how fortunate we are to have her on the USMS team.
It is my privilege to present the Ted Haartz Staff Appreciation Award to Jeanne Ensign.