USMS Award Recipient
Capt. Ransom J. Arthur M.D. Award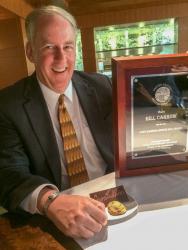 For more than three decades, Hill Carrow has served USMS and his Raleigh, North Carolina swimming community. On the national level, Hill participated on the Law and Legislation, Rules, Marketing, Insurance, Championship, and Recognition and Awards committees. In addition, USMS often called upon him to provide advice and direction in task force work with Compensation and Benefits, the Endowment Fund, and Branding.
Hill has had his hand in many of our National Championships, serving s meet director in 1984, 1992, and 2012. He, along with a few of his teammates, developed the first computer software for seeding national meets. Hill also established the National Championship Award, which is presented annually by the Raleigh Area Masters. While living in Colorado Springs, Co and using his connections with the US Olympic Committee, he and then USMS President Nancy Ridout established the High Altitude Perormance Camp in 1998. Hill and President Nadine Day revived the camp (minus the altitude) in North Carolina in 2010.
Often involved with the local swimming community, Hill was a founder and coach of the Raleigh Area Masters. He led the North Carolina LMSC as chair from 1982-1985. The North Carolina State Games were established in 1993 with Hill leading the way as the first Executive Director and making sure that Masters Swimming was included as one of the sports.