USMS Award Recipient
U.S. Masters Swimming Open Water Service Award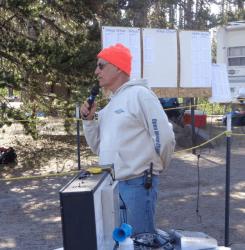 By Sandi Rousseau

The U.S. Masters Swimming Open Water Service Award honors individuals who have made significant contributions to promoting and building excellence in USMS open water swimming.

This year's honoree has excelled at the club, LMSC, Zone, and national level. In doing so, Bob Bruce has worn many "hats", as a major developer, founder, organizer, and promoter of open water in the roles of event director, safety director, referee, coach, mentor, clinic instructor, administrator, and swimmer.

Here are some examples:

Locally (Club & LMSC levels):

Directed or overseen 62 open water events (192 swims) at 5 different Oregon LMSC venues, without any reportable safety incidents. Since 2001, Oregon's open water splashes have doubled to about 1150.
Founded and directed 2 annual events at Foster Lake in 2005 and Lake Juniper in 2012, resurrected an event at Eel Lake in 2002, safety or event director for events at Elk Lake since 1996, and oversaw operations at Applegate Lake in 2012.
Served as the event Referee for events that he directs and for other events.
Oversees scoring and awards for the annual Oregon LMSC open water swim series.
Notably, is the course developer and builder of the Foster Lake Cable course –- the only fixed cable swim course west of Indiana. A major 2-year project that required diligent efforts to work through the regulatory and permitting processes.
Serves as Coach of Central Oregon Masters Aquatics open water team, where membership has grown from 15 to 250 over the last 15-years. Open water participation is significant. They are multi-year Oregon team champions.
Linked participation in USMS postal swims to participation in open water events.
Continues to conduct 2 or 3 Open Water clinics per year (since 2002).
Introduced the sanctioning of FUN open water style pool swim events in 2012.
Introduced the popular "Swim With Your Dog" FUN swims in 2002 that continues to be conducted in tandem with sanctioned open water events.
Chairs the Oregon LMSC long distance committee and sanctions since 2001.
Since 2001, writes monthly long distance column for the Oregon LMSC newsletter.
USMS Zone:

Proposed and hosted the first Northwest Zone open water championships in 2003.
Nationally:

Directed 6 USMS open water national championships and mentored other event directors on how to organize and safely conduct these events.
Actively served on the USMS Long Distance Committee since 2003 and USMS Open Water Committee since 2011, and is well known for leading, organizing and extensively updating the open water rules in the last several years – "a giant job".
As a Swimmer:

Avid and enthusiastic open water swimmer, motivator and cheerleader.
USMS Long Distance All Star 2007, 2009, and 2010.
Excerpts from Nomination Supporters:

"He is the driving force behind Oregon's open water swimming program. He has been the meet director for the Cascade Lakes Swim Festival for as long as I can remember. He organized the establishment of a permanent open water race course in Foster Lake with a fixed course and touchpad timing, unique in open water swimming. He is a dedicated coach, both for pool and open water swimming. He is a cheerleader, encouraging not only his local team swimmers to participate in open water swimming (and long distance postal swims) but swimmers from all over the State to participate. …. Oregon would not have the successful program we now have without his steady driving, encouraging hand."
"His excitement and love for open water events was and continues to be contagious. Whenever he has wanted to expand the open water program he thoroughly explores the possibilities and figures out ways to address the obstacles. He has been innovative in expanding our open water season to include nine open water events in a typical season—a stellar accomplishment in a cool and short summer weather state like Oregon. His vision to create the first cable swim west of Indiana became a reality due to his vision and persistence. The Oregon Board has been thoroughly supportive, because he always comes to the board meetings very well prepared with details from his research of what it would take to make an event or activity successful and a positive experience for everyone."
These examples demonstrate extraordinary achievement and impact, and how the honoree lives the USMS mission, vision, goals & objectives through open water swimming.

The recipient of the inaugural 2013 Open Water Service Award is Bob Bruce from Central Oregon Masters Aquatics.

Congratulations, Bob!