USMS Award Recipient
U.S. Masters Swimming National Championship Meets Award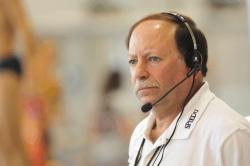 The USMS National Championships Award was originated by the Raleigh Area Masters Swim Team and is presented each year by RAM. The award began with a focus on meet directors at national meets, but with the assistance of the Championship Committee, was changed to focus on significant contributions to our national championships and similar meets.

This year's winner has been a member of the Championship Committee since 2010 and has been instrumental in a variety of areas that have enhanced our national championships. He was Meet Director of the 2010 Spring Nationals in Atlanta and hosted an excellent meet. As Officials Chair, he has always worked to assist, and improve upon, the operations of our national meets. He has taken that knowledge from championships, as meet director, and officials chair to do an extensive re-write of the Meet Director's Guide. All together, he has made many contributions that have elevated the quality of our national championship meets and, therefore, he is very deserving of this recognition.

Accordingly, we are pleased to announce that the winner of the 2013 USMS National Championship Meets Award is Ed Saltzman.