USMS Award Recipient
Ted Haartz U.S. Masters Swimming Staff Appreciation Award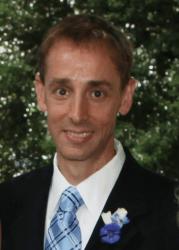 Written and presented by Laura Hamel at the 2013 Annual Meeting

One of the best things about working for USMS is the opportunity to work with a passionate group of people who love swimming as much as we do.
But each year, the staff has the difficult task of choosing only one volunteer to receive the Ted Haartz Staff Appreciation Award, so named for an individual who helped establish the foundation for U.S. Masters Swimming's evolution into a professionally operated organization.
Although we're not a lazy bunch, we've often thrown up our hands during deliberations and said, "Let's just give it to everyone on our list, you know, to multiple individuals in the same year." The task of choosing is made more difficult by the fact that each staff member has a completely different area of responsibility, working with different volunteers, so it's hard to find one whose work overlaps into multiple areas.
The person we selected this year is a longtime volunteer. He's served at the local, LMSC, and national levels. His approach to any project is organized, thoughtful, deliberate, and detailed.
Very detailed. As an LMSC registrar who's more technologically proficient than the average bear, he's a formidable beta tester for programs and services designed for registrars. Sometimes the minutiae he breaks things down into is greeted with an eyeroll, or, I'm not gonna lie, even a swear word.
However, after the eyerolling and maybe a little whining, whatever feedback he has is quickly incorporated, because he's usually dead on.
Whatever project he's working on is better for his input. He's also keenly aware of deadlines and the inner workings of the organization. There are days when I get the eerie feeling that he's installed some sort of spyware or a VPN tunnel on my laptop, because he emails me at the exact moment when I'm thinking about some detail of a project that needs attention.
Psychic powers aside, this individual understands with the same deep conviction of the hypervigilant perfectionists who inhabit the National Office, that our products and services, our national events and publications, are promises to our members, promises that need to be delivered upon with excellence and consistency, and worthy of our national brand.
He's a gifted mediator, who wields both carrot and stick with equal precision. He's honest and straightforward when communicating with members, volunteers, and staff. He has the ability to quickly assess a situation and formulate an appropriate response. And when the excretory material hits the turbine, and everyone else is frustrated, he uses his deliciously wicked sense of humor to distract us.
This individual spends many, many hours making sure that various moving parts are oiled and in good working order, that everyone is meeting deadlines, planning, promoting, and executing critical functions.
Sometimes, I wonder if this hard working volunteer, who also has a young family, actually logs in any hours at his day job, which is a scary thought, since a lot is riding on that.
Contrary to what we've always heard, apparently it really does take a rocket scientist to figure all this out. So it is my honor to stand up here, represent the staff, and give a big stick to a guy who really knows how to use one, along with carrots, whine, and cheese, Mr. Jeffrey Roddin.