USMS Award Recipient
Capt. Ransom J. Arthur M.D. Award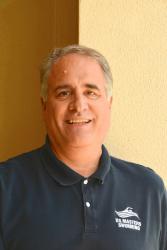 Rob Copeland's love of swimming is evidenced by his long term involvement in both the competitive side as well as the managerial side of Masters swimming. He has had a deep understanding of USMS's rich heritage and vision for the future.
Attending USMS convention since the 1980's, Rob has chaired or been a member of the Legislation, Long Distance, Rules, Finance, and Governance committees. He has served as USMS President from 2005-2009, focusing on maintaining and improving the quality of USMS programs and services.
A member of the Georgia LMSC, Rob has served on the Board of Directors and as Long Distance Chair and Safety Chair. He has directed the successful Peachtree City Short Course Yards Pentathlon for many years, and directs at least one open water event each summer.
Rob continues to work at maintaining and improving USMS's quality programs and services. His steady guidance and his known ability to calm the waters has served him and USMS well, earning him this recognition.