USMS Award Recipient
U.S. Masters Swimming Dorothy Donnelly Service Award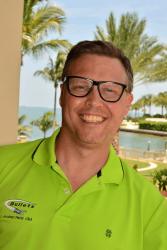 Chris Colburn, from the Illinois LMSC, has been involved with Masters swimming before he was able to join due to the age restrictions. As a youngster in 1990, he coached Masters swimmers that were attached to Adirondack LMSC and then joined Masters swimming in 1993. He also coached for six years in the Delaware Valley LMSC. He moved to Illinois in 1999 and became involved with coaching and swimming Masters at Rush-Copley, followed by Naperville Waves, and currently at Academy Bullets.

Chris is the current Head Masters coach at Academy Bullets and has grown this program from a few swimmers to a year-round Masters program. He has hosted swimmer's clinics in Central Illinois and surrounding areas of Chicago over the past few years.

Chris has contributed to the LMSC and has served on the Communication and Coaches committees. He was voted by the membership as Vice Chair of Illinois LMSC (ILMSA) in 2005. He also served as the webmaster/IT director and has restructured the LMSC website. This past year, Chris was elected as Chair of ILMSA.

At the national level, Chris has been involved with USMS Coaches Committee, currently serving as chair.