USMS Award Recipient
Capt. Ransom J. Arthur M.D. Award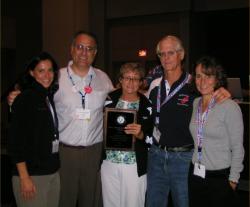 Carolyn Boak began attending USMS Convention in the late 1980s. She chaired the International Committee and has been a member of the Rules and Championship committees for many years. She authored "Guidelines for Liaisons to National Meets" and co-authored the "Meet Director's Handbook for National Championship Meets".

Carolyn gained experience for these projects when she directed numerous meets for her club, Los Altos Masters, and the Pacific LMSC. Most notably, she was the meet director for the 1987 SCY National Championship meet that was held at Stanford University in Palo Alto, CA. The event was, and still is the largest USMS national championship ever held. Carolyn also served her LMSC as its Top Ten and Records Chair. A long-time member of Los Altos Masters, she served as club president and interim coach.

Marrying USMS member Tom Boak in 1989, Carolyn became an active member of the Woodland Masters in Texas. Wherever Carolyn can be found, her impact can be felt. Her intelligence and insights, coupled with her energy, have made her an invaluable asset to USMS at the local and national level.