USMS Award Recipient
Capt. Ransom J. Arthur M.D. Award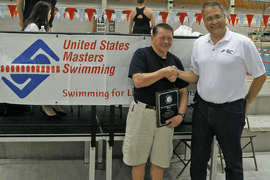 Barry Fasbender has been involved in Masters swimming for more than three decades, increasing his involvement each decade. He began swimming in local Masters programs in the 1970s and ended up running local programs from 1983-1985. Barry moved on to the national level, attending his first USMS Convention in 1993. He has participated as Chair of the Championship Committee and as a member of the Rules Committee.
Barry has been a driving force for improving the competitive environment at U.S. Masters Swimming. Through his leadership as Championship Committee Chair, he instituted electronic timing for National Championships, prepared bid packages for meet hosts, and acted as meet liaison at USMS Nationals. His own Pacific LMSC hosts at least twenty meets each year, where Barry's duties included sanctions and meet operations.
Barry quietly and effectively got tasks done, from the small things like measuring all the LMSC swimming venues, to the large projects, like assuring that the first Relay Day at the 2006 FINA World Championships went off with out any hitches. This quiet competence made him a crucial and dependable member of any task force related to Masters swimming competition. He is always available, always knowledgeable, and always a solid contributor.
Barry's legacy to our organization was not that he got the job done, but that he always did it with integrity, good grace, and competence. His credentials and his long-term dedication to USMS has made him deserving of our prestigious award.