USMS Award Recipient
Capt. Ransom J. Arthur M.D. Award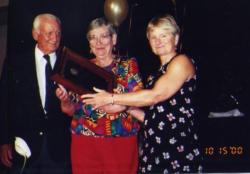 Joan Smith joined Masters Swimming in the early 1970's and participated in the 1972 SCY National Championship meet, which was held in San Mateo, CA. She began volunteering in the early years of Masters Swimming and helped as USMS historian prior to the formation of the History and Archives Committee. She began attending USMS convention in the mid-1980s and over the years served on the International, Records and Tabulation, and Officials committees.

Joan served as a certified deck official at many USMS National Championships and most local meets. She was the co-editor of the Pacific Masters (PMS) newsletter and was chair of the PMS Officials Committee for many years. Joan also served as the Pacific Masters Vice-Chair of Administration and earned the PMS Contributor of the Year in 1986.

Joan had received this award along with her husband, Richard.