USMS Award Recipient
Capt. Ransom J. Arthur M.D. Award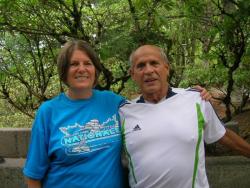 Jeanne Ensign is an exhaustive worker who has showed remarkable enthusiasm for all of her duties at team, LMSC, Zone and National levels. Nationally, Jeanne has served as the USMS Treasurer, a member of the Board of Directors, Internal Auditor, the Finance Committee Chair, as well as volunteering for numerous other assignments in her 15 years as a delegate to the annual convention.
Jeanne has served as the Northwest Zone Treasurer for approximately 10 years. She also has served as the Pacific Northwest Association president, vice president, and treasurer. Prior to moving to the Seattle area, Jeanne was the Montana LMSC registrar and treasurer. She has also been a major contributor to the success of the 1997 Short Course, 2001 Long Course, and this year's 2007 Short Course USMS national championships.
Jeanne is a leader who can be counted on to support the mission of Masters swimming to promote fitness and health in adults by offering and supporting Masters swimming programs. Jeanne is a contributor who gives back over and over again.