USMS Award Recipient
Capt. Ransom J. Arthur M.D. Award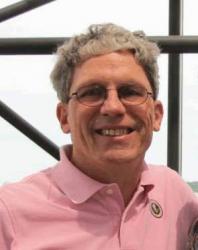 Leo Letendre, first came to the national scene in 1983 as a support for his wife, Diane, as a new delegate to the convention. Paraphrasing Diane's comment, "Leo got to the convention, started talking, and never shut up." He had attended 21 USAS conventions by the time he received the Ransom Arthur Award.
Leo developed and continued to update the registration software that USMS uses. He was so innovative in its production that the software has commonly been referred to as "Leo Ware." His valuable insights into the needs of USMS are enhanced by his prior experience as the chair of the Ad Hoc Computerization Committee and a member of the Professional Management and Officials Committees. Leo has chaired the Rules Committee, where his methodical organization and calm leadership make "wet" years, or rules years in the USMS legislative calendar, as painless as possible. He has served on the Legislation Committee, Officials Committee, and Data Base Task Force.
Leo's tireless work ethic and dedication to USMS is evident on the local level as well. He has held many positions including Zone Representative, Ozark LMSC Chair, Officials Chair, and Top Ten Recorder.