USMS Award Recipient
Capt. Ransom J. Arthur M.D. Award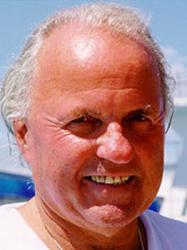 Robert E. Beach (Bob) was born in Hollywood, California. in 1930, graduated from the Army and Navy Academy, Carlsbad, CA, in 1948, received a BA degree from the University of Tampa in 1955, and received his LLB in 1958 from Stetson College of Law. He resides in St. Petersburg, FL, and was a circuit court judge of Pinellas County, Florida for 25 years.
Bob started swimming regularly in 1968 after deciding that jogging was not his sport. He was "proud to be in the right place at the right time and be involved in Masters swimming from its inception." Bob was very instrumental in the formation and development of Masters swimming in St. Petersburg, FL where he was a member of St. Pete Masters. He hosted the second Masters meet ever held in the United States at St. Petersburg in 1971, where 17 people attended.
Bob served as Vice President of AAU Masters in 1972-1973. He worked tirelessly to have Masters included in the AAU, and he is credited with overcoming much of the early resistance to Masters swimming within the swimming community. Masters swimming was officially adopted by the AAU in 1972. (Note: in 1981, USMS became the only independent Masters aquatic sport governed by its athletes.) He has also been president of the U.S. Water Fitness Association.
Bob was treasurer of the U.S. Foundation for Aquatic Sports and chaired the Captain Ransom J. Arthur M.D. Award Committee from 1973 to 1987. He received the 1986 Capt. Ransom J. Arthur M.D. Award for his many contributions to the development of USMS.