USMS Award Recipient
Capt. Ransom J. Arthur M.D. Award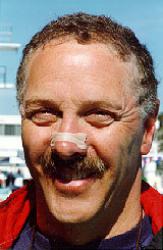 Mike Laux has been associated with swimming most of his life, starting competition as an 8-year-old and swimming in club, local, state and national meets. He graduated from Lawrenceville School and Amherst College, where he was captain of the swimming team, and set butterfly and individual medley records which stood for many years. A graduate of Fordham University Law School, Mike also swam for and was captain of the New York Athletic Club Swim Team, and played on the NYAC Water Polo Team.
Appointed Northeast Coordinator of Masters Swimming by the AAU in 1972, Mike was co-sponsor of the first formal AAU Masters competition east of the Mississippi, a founding member of Connecticut Masters Swim Team, and President of the Connecticut AAU and the Connecticut YMCA Swim League. He also served as Chairman of Law and Legislation of the AAU, and, for one year, was Legal Counsel to both USMS and United States Swimming.
Mike has been a lifelong participant and contributor to age group and Masters swimming on the local, regional and national levels. He is the quintessential Masters swimmer; he's in it for the health of it, the fun of it, the competition of it, and the logic and order of it. Mike served as President of USMS from 1981 to 1984, and thereafter for a number of years, was Chairman of the Insurance Committee. In 1985, Mike was named the deserving recipient of the Capt. Ransom J. Arthur M.D. Award.