USMS Award Recipient
Capt. Ransom J. Arthur M.D. Award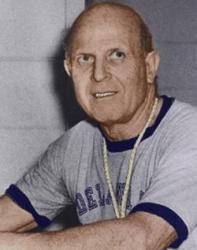 Harry Rawstrom was the Men's Swimming Coach at the University of Delaware from 1946-1981. He was a native of Montclair, NJ, and a two-time collegiate All-American at Springfield College (MA). Harry was honored by The University of Delaware when the pool in Carpenter Sports Building was named the Harry W. Rawstrom Pool.
Harry earned All American honors in Masters Swimming in 1977, 1978, 1982, 1987, 1988, and 1989.
Harry's biggest contribution to USMS was in his work for local Masters in the Delaware Valley LMSC. Harry made the University of Delaware pool available to Masters swimmers for early morning workouts, encouraged swimmers to participate in USMS, and ran two Masters meets each year at the University pool. Harry was honored by USMS in 1982 as the winner of the Capt. Ransom J. Arthur M.D. Award for his work on behalf of United States Masters Swimming.