1998 Short Course Nationals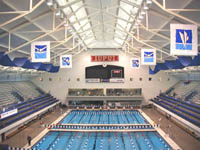 The USMS Short Course Nationals are once again coming back to Indianapolis for 1998. The I.U. Natatorium is a world class facility where many national and world records have been set over the years. There are many excellent hotels available close to the natatorium, and there is much to do and see in Indy, including the world famous Indianapolis Motor Speedway.
The 1998 Short Course Nationals will be held from May 7-10, 1998. Information about the meet will be posted here as it becomes available, both before the meet and after the meet.
This Just In...
The meet results for all of the completed events are now available in a searchable database format. The full results by age group will be available after the conclusion of the meet.
The heat sheets for all individual events are now available on line, as well as the estimated time line for the meet. Please be aware that the time line is only an estimate, and that it is the swimmers responsibility to show up on time for his or her heat. The meet will not be held up to stay on the time line if the meet is progressing faster than outlooked.
Five hotels were inadvertently left off our original list of hotels on the shuttle route. These have been added to the list of hotels. All of these hotels will have shuttle service to and from the natatorium.
The meet is large with 1738 swimmers. The 6th event will not be dropped, and the time line is estimated for meet completion between 4:00 and 6:00 PM each day with Thursday being the shortest day.
Reminders
You MUST CHECK IN for any distance events that you have entered.
POSITIVE CHECK IN DAYS and TIMES (local time):
In-Person at the Indianapolis IU Natatorium Registration Area
Wednesday, May 6: 1:00 PM - 6:00 PM
Thursday, May 7 - Saturday, May 9: 6:30 AM - 6:00 PM
By Phone - call (317)278-7708
Tuesday, May 5: 1:00 PM - 6:00 PM
Wednesday, May 6: 9:00 AM - 6:00 PM
Deadlines

| | | | |
| --- | --- | --- | --- |
| Event 1/2 | 1000 Freestyle | Wednesday, May 6 | 6:00 PM |
| Event 3/4 | 1650 Freestyle | Wednesday, May 6 | 6:00 PM |
| Event 17/18 | 400 IM | Thursday, May 7 | 6:00 PM |
| Event 31 | 500 Freestyle (Women) | Friday, May 8 | 6:00 PM |
| Event 46 | 500 Freestyle (Men) | Saturday, May 9 | 6:00 PM |